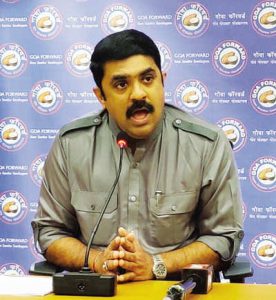 Goemkarponn Desk
FATORDA: Fatorda MLA Vijai Sardesai said that a wave of alarming murders has recently shaken the state of Goa, leaving the public shocked and deeply anxious. Just in the last 4 days, 6 murders have been committed in the state.
The approach taken by the state government in addressing these crimes, including incidents of sexual assault and harassment against both residents and tourists, will lead to an undesirable culture conducive to further such offences, and contribute to a negative image of Goa. I had previously raised concerns about the rising crime rates in the state, and the recent incidents only reaffirm the urgent need for effective action and accountability from the authorities.
In the past few days, a disturbing sequence of events unfolded, with three cases of murders registered. One such case involved a husband killing his wife, and in another, a wife colluded with her partner to murder her husband, and then, a tragic incident in Fatorda where a labourer was brutally killed. These heinous crimes are deeply unsettling, and they demand immediate government intervention, and adoption of comprehensive measures to prevent their recurrence.
In a separate incident, a man lost his life due to a property dispute with four individuals from Uttar Pradesh. His body was found thrown in a river. Furthermore, a man was found dead with his throat slit in Loutolim, a 23-year-old was brutally murdered in his own home in Rumdamol, and a woman was killed by her disgruntled partner.
I raise a crucial question: What is the overarching response of the police to address this alarming surge in crime? I emphasise that I am referring to the broader strategy, not individual cases. The people of Goa are deeply troubled by these crimes. Today, it's migrants who are the victims, but tomorrow it could be our fellow Goans.
The Director General of Police (DGP) of Goa is an experienced officer who is actively engaged on social media platforms. However, instead of promptly addressing the concerns and assuring Goans, he posted a tweet today regarding public grievances. While such endeavours are commendable, the need of the hour is a comprehensive response from the DGP outlining the measures he intends to take to curb crimes in the state.
Similarly, the Home Minister's silence on these crimes is worrying. It is imperative that he makes a public statement detailing his plans to address alarming rise in the crime rate. The Goa police must shift its focus from revenue generation to tackling crimes effectively.
Comment