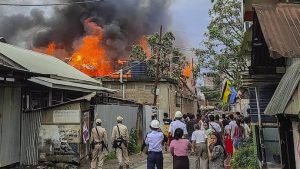 Goemkarponn Desk
PANAJI: The unprecedented man-made crisis in Manipur has shaken the entire country to the core. As usual Caritas India was the first to be on ground zero in Manipur to provide immediate relief through the provision of Food kits, Shelter-NFI kits and Dignity kits for hygiene and personal well-being of women and adolescent girls through its partner organisations in Imphal and Silchar, to the thousands of Internally Displaced Persons (IDP) in the relief camps, despite the blockades.
The main focus of this intervention was to assist the population residing in camps, including both the Meitei and Kuki communities to ensure that individuals directly impacted by the violence, irrespective of their ethnic background, receive the required assistance. In addition, protection concerns were addressed in Manipur and Mizoram through medical camps, health referrals and distribution of special food kits meeting the needs of vulnerable population.
Caritas India along with Catholic Relief Services (CRS) offered USD 20,000/- to ZEP Aizawl for humanitarian aid in Manipur. Besides, along with Sphere India, Caritas India was deeply involved in the Joint Rapid Needs Assessment (JRNA) through data collection and report writing.
Caritas India has ensured the protection principles of Safety, Access and Dignity are upheld in prioritizing the vulnerable groups among the IDPs, such as women, children, elderly, and persons with disabilities, recognizing their specific needs and vulnerabilities.
The Church in Goa as always rendered its compassionate heart to the suffering people in Manipur. His Eminence Filipe Neri Cardinal Ferrao immediately contacted the Archbishop of Imphal, Domnic Lumon to assure the support of the Archdiocese of Goa.
Subsequently, in response to the appeal from His Eminence people contributed through the parishes and individually very generously towards Manipur aid.
The Archdiocese received contributions from the faithful and well-wishers and dispatched Rupees Forty-Five Lakhs to the Archdiocese of Imphal and Cartias Goa sent Rupees Forty-One Lakhs Six Hundred to Caritas India for relief and short-and-long term rehabilitation initiatives in Manipur.
It is encouraging to note that the contributions from the people are continuing to flow to Caritas Goa and the Archdiocese, which we shall continue to send for respective assistance in Manipur.
Comment