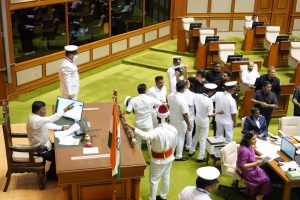 CM Sawant urges opposition MLAs to discuss the issue Speaker's foyer
Goemkarponn desk
PORVORIM: The Opposition benches brought up the issue of violence in Manipur on the House floor once more today after lifting their 24-hour suspension.
LoP Yuri Alemao and GFP MLA Vijai Sardesai wanted a debate on the House floor. The opposition was urged by Chief Minister Pramod Sawant to speak with the speaker about the matter in the foyer.
The Speaker asked the opposition to bring up this subject on private members' day.
The Speaker had banned a private members' resolution on the Manipur issue that had been presented by an AAP MLA the previous week, according to Yuri Alemao, the leader of the opposition in the Assembly, who requested a debate on the matter on the House floor.
The administration isn't serious at all. Why shouldn't we talk about Manipur? questioned Alemao.
The opposition MLAs—Congressmen Carlos Ferreira, Altone D'Costa, and Alemao, AAP legislators Venzy Viegas and Cruz Silva, Goa Forward Party leader Vijai Sardesai, and Revolutionary Goans Party MLA Viresh Borkar—raised chants and persisted in calling for a debate on the subject.
The seven opposition MLAs then raced to the House well while carrying placards and donning black clothing.
All seven opposition members of the Goa Legislative Assembly were suspended for 24 hours on July 31 after they protested and created a ruckus on the floor of the House over Manipur violence.
Comment