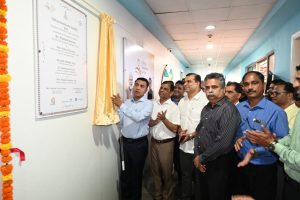 Goemkarponn desk
PANAJI: After Gujarat and Uttarakhand, Goa became the third state in the country to inaugurate an AI-powered Vidhya Samiksha Kendra (VSK), through which every student, teacher as well as school will be monitored real-time.
Developed by ConveGenius, the Goa VSK toolkit hosts a range of conversational AI chatbots guiding students, assisting teachers, and providing valuable data for administrators. Presently, data is being received from 1,480 schools, government as well as government-aided, in the state.
Addressing a gathering after inaugurating the VSK, Chief Minister Pramod Sawant said, "It was our budgetary promise to start the VSK in Goa. We collaborated with ConveGenius on June 7, 2022. Through this control and command centre, every teacher, student and school will be monitored. Two lakh students from Goa right from the KG to class XII will be monitored."
Speaking further, he said, "I have once again given instructions to the director to start remedial classes, not to trouble teachers but to benefit students."
"The real-time data will offer invaluable insights into the students' progress, teachers' training, and overall performance of schools," he said. The VSK will present dashboards and reports for districts, blocks, and individual schools. The real-time data will offer invaluable insights into student progress, teacher training, and overall school performance. Teachers will be able to tweak their teaching strategies based on real-time feedback, ensuring every student gets the attention they need to boost learning outcomes.
"The introduction of VSK is all about giving our students and educators the best tools for success. Through VSK and the SwiftChat bots, we will achieve the promise of 3Ss- sampoorn students, samarth teachers and sashakt administration," Sawant said.
"It is the next big step in refining education in Goa using real-time data and feedback loops. The 6A framework of VSK, including attendance, assessments, adaptive learning, administration, accreditation and AI nudges will be setting new educational benchmarks. With SwiftChat, the Goa VSK will transform into Vidhya Sudhar Kendra soon," he said.
Comment