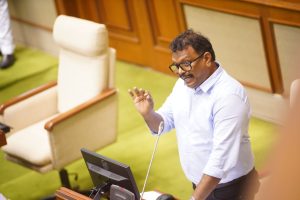 Goemkarponn desk
PANAJI: Goa BJP MLA Michael Lobo on Wednesday suggested that the government should bring 'Matka Gambling' under state lotteries which in turn will help the state exchequer through GST and tender.
Michael Lobo said that lotteries have low response now, but 'Matka' is being played widely.
"Matka is profitable. It is operated in all constituencies. If it is brought under lotteries then the state government will gain profit through GST. In a big way, the treasury will get money. Also people will get money officially," he said.
"Let it (Matka) come under the lottery. Government will benefit from it. Let anyone get the tender… Illegal gambling should be stopped and brought under lotteries," Lobo, former minister in BJP's last term, said.
"It will bring big changes. State will benefit. Presently, the government is not getting anything when it is running illegally," he said.
Matka gambling, which is a popular gambling activity in Goa, operates from small kiosks and digitally as well. It is based on number selection and betting, from 00 to 99. The first opening digit is known as 'Open' and the second digit is known as 'Close' in this gambling bet. Those who bet correctly for a two digit number get around Rs 90 for every rupee and for 'open' or 'close' gets Rs 9 for every rupee.
There are various 'bazars' of Matka in Goa, which includes mainly Kalyan, Mumbai, Star Day-Star Night, Rajdhani, Pune Day and Pune Night etc.
Goa Chief Minister Pramod Sawant on July 8 had said that the state government will crack down on Matka gambling activities after a citizen had complained to him over phone in programme 'Hello Goenkar' on Doordarshan-Panaji.
Some Matka bookies have shifted their 'Matka gambling' operations from kiosks to the digital modes, where they manage the transaction on mobile phones.
Comment