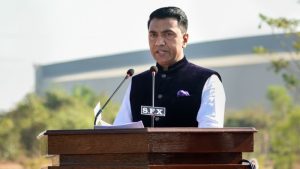 Goemkarponn Desk
PERNEM: Chief Minister Pramod Sawant said that if turmeric is planted in the cashew plantation, the yield can be high.
"If Turmeric is planted in the cashew plantation, the yield can be high. This product should be taken by the market yard and efforts should be made for it," said Sawant
He further said that farmers should strive to create green revolution by producing better crops in abundant quantity.
"Both the Centre and State governments are in the forefront to provide necessary help to farmers so that farmers increase their income," said Sawant.
Apart from giving priority to agriculture, farmers should take various types of training. The way in which cows can get fodder after fodder planting or maize planting, should be done in terms of dual utilization. 3 Plant corn.
Today there are large number of domesticated animals, farm house, they need these items. Goods worth millions of rupees have to be brought from outside.
The chief minister requested the farmers to acquire the Kissan Card as well as Soil Card, as both cards are important to farmers.
"Farmers should also be prepared to acquire necessary training to cultivate different types of the crops in their field. Nowadays, youth have started taking interest in farming activities and this is a good sign," said Sawant.
Students and the younger generation are now seen taking part in agricultural courses as well. The way every farmer has an Aadhaar card. Chief Minister Sawant asserted that agriculture card is necessary and soil is important only by adding it.
Comment