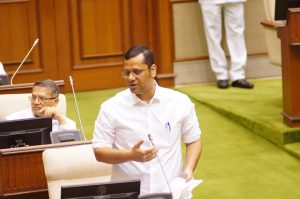 Goemkarponn desk
PANAJI: "Event Management has become a major source of revenue for the BJP Ministers and Office Bearers. There is huge corruption in the Tenders of Event Management. Chief Minister Dr Pramod Sawant refused to constitute House Committee on Event Management, fearing getting exposed for huge corruption," stated Leader of Opposition Yuri Alemao.
The records reveal that the Government is on a borrowing spree with total debts crossing almost 30 crores now, resulting in a burden of 2.14 lakhs on each Goan. On the other hand, the Government is spending 33 lakhs per minute to organize the Swearing in Ceremony, charged Yuri Alemao.
"Information Department has no expertise in Engineering, Architecture, Creative designs, or Fabrication which are essential components of specifications of Tenders of Event Management. Tenders are floated just on the instructions of the In house event management agencies who manage the Ministers and Office Bearers of the BJP. There is a blue-eyed boy who is patronized repeatedly by the Government with repeated Tenders," stated Yuri Alemao.
"When I asked a pointed question in the Assembly today, Chief Minister maintained complete silence and tried to divert the attention from my demand of giving details with names and qualifications of the persons who prepare Tender specifications and scope of work," informed Yuri Alemao.
The silence of the Chief Minister is enough to understand all is not well in the tender process, he said.
He said today Government moved a Congratulatory Motion congratulating the Social Welfare Minister for organizing Purple Fest.
The fact is Government floated two tenders for the same event; One from Tourism Department and the other through Information Department. Chief Minister had no answer to give on duplication of the tenders, he said.
"I also brought it to the notice of the Chief Minister that the said Purple Fest tender was opened on 2nd January 2023, but the contractor started the work on 29th December 2022. There is video evidence of the same. This exposes that the tenders are "Fixed", stated Yuri Alemao.
Comment