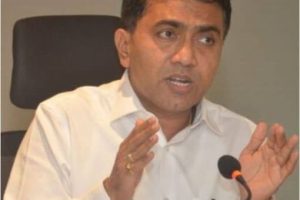 Goemkarponn desk
PANAJI: Chief Minister Pramod Sawant today said that he had sought support from the centre in the sectors of Mining, Tourism and Industries.
CM attended the Mukhyamantri Parishad chaired by Prime Minister Narendra Modi and BJP National President J.P Nadda in Delhi.
"Iron ore mining in Goa may resume in 2023-24; Goa has taken steps for the auction of iron ore blocks to resume mining activities," said Sawant
He further said that Haryana has got a good concept of Parivar Pehchan Patra (PPP) which is like a ration card, and Gujarat and Madhya Pradesh have got CM-Dashboard concept.
Sawant said that a team from Goa will travel to Gujarat and study their CM-Dashboard concept, and a team will also travel to Haryana and study the PPP concept and see how we can implement them in Goa too.
He also highlighted the need for supporting Micro, Small, and Medium Enterprises (MSMEs) and harnessing the country's tourism potential.
Sawant said that Chief Ministers and Lieutenant Governors put forth various policy-level suggestions and discussed specific issues that require cooperation between the centre and states.
These included opting for green strategies, zone-wise planning, urban planning, agriculture, quality of workmanship, logistics, and other pertinent areas.
Chief Minister/Lt. Governors gave various policy-level suggestions. They mentioned specific issues pertaining to the States which require Centre-State cooperation.
Some of the critical suggestions and best practices they highlighted included areas like opting for green strategies, the need for zone wise planning, tourism, urban planning, agriculture, quality of workmanship, and logistics, among others.
Comment