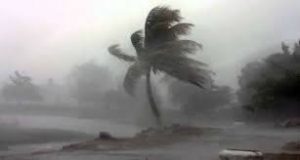 Goemkarponn desk
PANAJI: The Goa Chief MInister's Officer has refuted claims of incompetency of the State Disaster Management Authority, stating SDMA is well-equipped and prepared for any untoward incidents during forthcoming monsoons.
"Section 18 of the Disaster Management Act 2005 mandates SDMA to lay down policies and plans for Disaster Management in the State. Goa SDMA executes the same through DDMAs and the line departments for communication and coordination with DDMAs and line departments. Goa SDMA has set up a State Level Control Room manned by 8 DEOs working 24/7 on a shift basis," the CMO said in a release.
Further, it says to strengthen disaster-related communication support, Goa SDMA has implemented a Pan India Project (Extension of Emergency Response Support System [Dial 112] ) for disaster emergencies operated by one Supervisor and 3 DEOs at ICCC to address any distress calls regarding disasters.
"Goa SDMA has also appointed 1 Senior Consultant and 1 DEO under Sendai Framework for Disaster Risk Reduction to further strengthen the State Level Authorities. The government of Goa has constituted Goa SDMA with Chief Minister as the Chairperson Ex-Officio, Revenue Minister as the Vice Chairperson Ex-Officio, Chief Secretary as CEO Ex-Officio, Secretary of Revenue as Member Secretary, Collectors of both districts, Director of Fire and Emergency Services, Director General of Police, Principal Chief Engineer PWD, Chief Engineer Electricity Dept, Chief Engineer Water Resources Dept. as members of Goa SDMA.
However, SDMA for its execution of disaster management activities, is not confined to these 14 staffs and the constituted body of members," CMO says.
It also consists of the DDMAs headed by Collectors of the respective districts as Chairperson, Mayor of CCP in the North and President of Margao Municipal Council in the South along with Chairman of North & South Goa District Zilla Panchayat as Co-Charipersons, Ex-Officio, Additional Collector II of the respective districts as CEO Ex-Officio, SP Police North & South, Director DHS in the North and Medical Superintendent District Hospital South, Director & Deputy Director of Panchayat in North & South respectively, Director & Deputy Director of Municipal Administration in North & South respectively.
Additionally, CMO says, all the Deputy Collectors, Mamalatdars, and Joint Mamlatdars, along with their own lines viz. Awal Karkuns, Circle Inspectors, Talathis etc., are part and parcel of the disaster management set-up of the State.
"Government has constituted Disaster Management Cells at District and Taluka level along with DEOCs and TEOCs," it says.
Goa SDMA maintains a repository of the resources (Skilled Human Resources, Equipment and Machinery) available with all the line departments and private agencies, including Goa Shipyard etc., on the India Disaster Resource Network – IDRN portal administered by both the DDMAs and NIDM at the National Level.
It is pertinent to note that Goa SDMA conducts capacity-building training programmes for first responders regularly in the areas of Shelter Management, First Aid, Firefighting, Search and Rescue, Early Warning and Communication, Cyclone Shelter Management and Maintenance Committees Refresher Training.
Additionally, Panchayat Level Training comprising of Village Disaster Management Plan, First Aid, Triage etc., has also been conducted under the induction training programmes for Panchayat Raj Institutions.
Familiarisation exercises are conducted annually in all 12 Talukas of both districts by NDRF 5th Battalion Pune.
CBRN Emergency Management Trainings and Mock Drills are conducted by Goa SDMA for emergency handlers at Airport and Seaport authorities in collaboration with NDMA and NDRF.
Additionally, NIDM conducts annual trainings and mock drills at ONGC, Betul.
In order to enhance the level of disaster preparedness for an effective and timely response in a systematic manner, Goa SDMA has notified Incident Response System and Local Contingency Plan for Mass Rescue Operation at Sea. Besides the updated communication plans have also been prepared and uploaded on the official website of Goa SDMA.
Comment