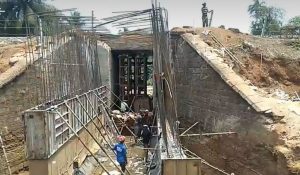 Goemakrponn desk
VASCO: Following complaints by locals, the Goa State Pollution Control Board (GSPCB) inspected the Velsao underpass constructed by Railways.
The locals demanded a stop work order as this is a catchment area and could cause floods in monsoons.
Former MLA Alina Saldanha said that the Raiwalys have no papers, and they are showing some court papers.
"The papers are of some other village judgements and telling us this gives them the right to work. This shows how they are resorting to illegalities and slyness to destroy villages of South Goa," she commented.
Further, she questioned whether the Railway Authority is above the GCZMA laws?
"Railways have no Ownership papers, yet they have filled the fields which will cause floods in these monsoons," she assumed.
Activist Olencio Simoes said that the area is under CRZ, and hundreds of fishermen are dependent on this.
"The Railway has done landfilling in this area with red mud. We have been saying for one year that this work is illegal. WRD report clearly says this area is flood-prone," he reiterated.
Reacting to the GCZMA inspection, the Railway officials stated the locals had misled the GCZMA and WRD that they were working in water.
"It is nothing like that; it will not affect water or the environment. There is no stop-work order as we are not doing any violations," he contended.
Comment