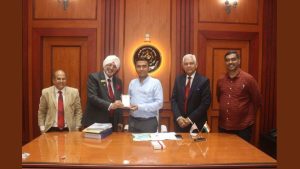 CM Dr Pramod Sawant expressed his support and blessing for the COIPP effort, pledging his full aid in its progress.
Goemkarponn desk
PANAJI: Indian Plumbing Association (IPA) and the Goa Engineering College have partnered to set up Centre of International Plumbing Practices (COIPP) in Goa.
On Monday, July 5, 2023, National Executive Board members Gurmit Singh Arora and Chandra Shekhar Gupta met with Dr. Pramod Sawant, the Honourable Chief Minister of Goa. The debate focused on the creation of the Centre of International Plumbing Practises (COIPP), a cutting-edge operational plumbing lab that would be constructed at Goa Engineering College.
During the meeting, Dr. Pramod Sawant expressed his support and blessing for the COIPP effort, pledging his full aid in its progress. The IPA NEB stressed the need of using good plumbing practises in the built environment. The leaders also advocated that all buildings undergo annual Water Audits, which might result in significant water saving and the identification of problem areas for upgraded systems.
The meeting was also attended by Ashok Joshi, Chair of the IPA's Goa Chapter, and Vice Chair Guruprasad Mantravadi. On July 9, 2021, the IPA signed a Memorandum of Understanding with Goa Engineering College to create COIPP. On the college campus, the lab will take up 625 square metres.
The Centre of International Plumbing Practises (COIPP) is a joint venture of the Indian Plumbing Association, India's governing organisation of plumbing professionals, and Goa Engineering College. Its goal is to offer a platform for comprehensive learning, knowledge development, and practical training for the plumbing and construction industries. COIPP will showcase the most recent plumbing equipment and fittings for contemporary structures.
The lab will include walk-through and see-through connections to help with learning and installation processes, as well as live display modules and product display sections with bathroom models, swimming pools and tool rooms. Students will also have access to a library and a workshop space.
COIPP will highlight effective plumbing practises while exposing the consequences of substandard plumbing installations. It would help experts and employees employed by builders and contractors within a 400-kilometer radius of Goa improve their plumbing knowledge and abilities, helping an estimated workforce of over 50,000 people. Furthermore, COIPP is projected to draw a large number of construction experts to Goa.
The Indian Plumbing Association looks forward to working with Goa Engineering College to develop COIPP, nurture excellence in the plumbing sector, and promote sustainable building practices.
Comment