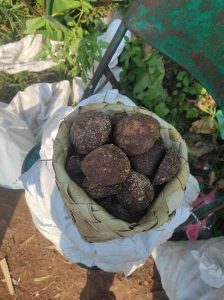 Goemkarponn desk
PANAJI: On receipt of a complaint from the consumer organization GOACAN, alleging the sale of Jaggery alongside the highway at Sirlim Navelim; the team of FDA officials visited the said spot and found that a mini tempo TN 76 AF 1804 belonging to one Karnan P were engaged in selling jaggery.
It was observed that 4 men has set up roadside kiosks and were selling loose jaggery.
The stock were carrying no label and the seller was unable to produce the details of its Manufacturer or no FSSAI license was produced.
Further the jaggery was not stored hygienically.
Since the whereabouts of the stock were uncertain and considered the fact that the seller did not bear any FSSAI license; the stock of approximate 200kg was confiscated and subsequently destroyed in the interest of public health. Samples are also sent to FDA lab for analysis.
The sellers were asked to leave the state immediately with their vehicle.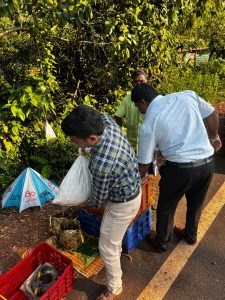 The FDA appeals to general public on being alert while making purchase of food articles being sold by such road side vendors. Consumers should purchase from reliable sources.
Avoid purchase of Jaggery having bright Yellow or orange colour as they might be having artifical food colour.
Prefer to buy Jaggery that is dark brown or coffee coloured, which is processed naturally. Do not endorse any auouthorized roadside vendors.
The team from FDA comprised of Designated Officer Richard Noronha and Food Safety Officers Amit Mandrekar and Sneha Naik.
Comment