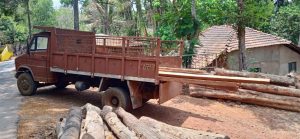 Goemkarponn Desk
MARGAO: The Goa Forest Department has constituted a committee to look into allegations of illegal transportation of timber in Canacona.
DCF Margao Prem Kumar said that strict action will be taken against perpetrators of the offence if any illegality is detected.
"One lot of timber was officially auctioned by the Forest Department and transit passes were issued by the RFO for the lot" he added
Kumar said that he had conducted a departmental auction and an auction price was paid according to the government notified rate and based on that the RFO (Range Forest Officer) Canacona had issued a transit pass for one lot.
"As of now, the official stand is that the alleged lot in question has all the documents. However, there were allegations that there were more lots that were unaccounted for. We have constituted a committee under SDFO Canacona to inquire into the allegations of unaccounted wood." he added
He further added, "It is our official stand that if there are any offences committed it is booked then and there, the law applied is equal to everyone. I would also request the public to give their inputs. Our staff is working 24×7 to check on illegalities, but public help is also welcomed."
The Opposition Congress on Tuesday came down heavily on the Forest Department and accused it of attempting to shield influential persons. The Congress leaders also grilled IFS officer Prem Kumar for not registering a 'Forest Offence Report'(FOR) against Legislative Assembly Speaker Ramesh Tawadkar and his accomplices for falling trees
Comment