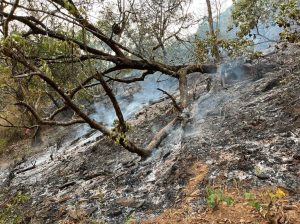 STATUS OF FOREST FIRE
AT 10 PM, 12.3.2023
300 + volunteers deployed.
Two fires doused after detection today itself.
ACTIVE FIRES (MINOR)
1. Surla I, Mollem -Govt. forest
2. Surla II, Mollem – Govt. forest
3. Potrem Netravali-Govt.forest
4. Cumari beat, Netravali WLS – Govt. forest
5. Copordiem Beat, Valpoi – Govt. forest
6. Shigao Beat – Govt. forest
7. Curdi Colomba beat- Govt. forest
8. Okambi Piliem beat – Govt. forest
ACTIVE FIRES DOUSED ON 12.3.2023 after 4PM*
One at Malpe-Pernem and other at Potrem-Curdi
Goemkarponn desk
PANAJI: Indian Air Force's Mi-17 helicopter dispensed over 25,000 litres of water over forest fire-affected areas in Goa on March 11, the IAF said.
"Today's operations have seen the helicopter flying multiple missions dispensing over 25,000 litres of water over the fire-affected areas to fight the fire," the IAF tweeted Saturday.
Earlier on March 9, the IAF deployed one Mi-17 helicopter to fight raging forest fires in Goa, using Bambi Buckets.
Forest Minister Vishwajit Rane said the team of Forest Department firefighters fighting the fire on the ground provided an update on the fire as of 4 p.m.
"We are once again grateful to the Prime Minister Shri Narendra Modi Ji for his intervention and aerial support. To assist the ground team's efforts to put out the fire, two IAF helicopters have been flying sorties since morning. I would also like to express my gratitude to the Defence Minister, Rajnath Singh Ji, and the Environment, Forest, and Climate Change Minister, Bhupender Yadav Ji, for their close monitoring of the situation," he said.
He said that Hearing that there has only been one new fire recorded since morning is a relief.
"I am grateful to our forest team, the Indian Air Force, the Navy, and our locals who have fought this fire valiantly for days. I am confident we will soon be able to control this situation," he said.
Comment