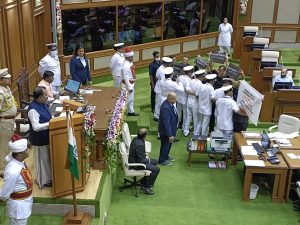 Goemkarponn desk
PORVORIM: Even as the first day of the winter session of the Goa Legislative Assembly rocked over the Mhadei issue with opposition creating a ruckus, Goa Governor PS Sreedharan Pillai gave a miss to the ongoing inter-state river diversion issue in his opening address to House.
Opposition comprising of AAP, Goa Forward, RGP and Congress dressed up in black outfits entered the well of the Assembly and started chanting the slogan "Amchi Mhadei Amka Zay".
The opposition benches also tried to disrupt the Goa Governor P.S Sreedharan's address demanding his statement on the issue of Mhadei.
During this, Governor Pillai continued his address amidst the chaos and ultimately, the opposition MLAs were escorted out by the Marshals on the Order of Speaker Ramesh Tawadkar.
Leader of the Opposition (LoP) Yuri Alemao said that our only demand was that the Governor should make his statement on the Mhadei river.
"If they cannot do it, then Chief Minister Pramod Sawant should resign from his position for his failure in protecting the Mhadei river," said Alemao.
He further questions why double engine sarkar has derailed? And that the Central Government only wants the benefit of Karnataka as they need more seats in Karnataka.
"If Goa Government can't resolve this issue, they should resign," Yuri added.
Goa Forward Party MLA Vijai Sardesai said that the opposition MLAs were only demanding a statement from the Governor on the issue of Mhadei.
"It is an issue of life and death for Goans. We wanted the Governor to make a statement," Vijai added.
Sardesai, in his letter, said that the Mhadei issue was "the single-most burning matter of discussion" in Goa.
"The people of Goa, understandably, are anxious and apprehensive and have a right to know the truth behind the entire episode and also the government's further plan of action to save Mhadei," the GFP leader stated.
He also said that half of Goa BJP is batting openly for Karnataka while the other half supports them with their silence and that the Government of Goa cannot continue as if nothing happened.
Meanwhile, a lone MLA from Revolutionary Goans Party was later removed from the House.
Comment