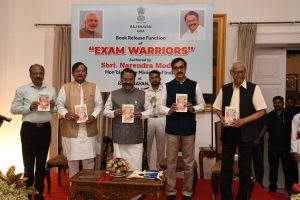 Goemkarponn desk
PANAJI: The Governor of Goa, Shri P. S. Sreedharan Pillai, launched the "Exam Warriors" book authored by Prime Minister Narendra Modi today at Old Durbar Hall, Raj Bhavan.
The Prime Minister has authored a book, "Exam Warriors' exclusively in the interest of the student fraternity in 2018; considering the seminal impact made by the book, the National Book Trust, India, under the support of the Ministry of Education, Government of India has published this book.
The launching ceremony was graced by Shri Damodar Mauzo, Jnanpith Awardee, Prof Harilal Menon, Vice Chancellor of Goa University, along with other prominent dignitaries in the field of education and literature apart from students, parents and teachers.
Addressing the launching ceremony, the Governor, Shri P. S. Sreedharan Pillai, appreciated the initiatives taken by Hon'ble Prime Minister Shri Narendra Modi for taking up the exams-related issues. The Governor advised the students not to take unnecessary stress during exams.
The Governor said the book exam warriors could give confidence to the students. Referring to the book Governor mentioned, questions and answers are there in the exam warriors book, and he appealed to make use of it.
The Governor further said the role of Youths in nation-building and in development is very important, and this is because the development of any nation lies in the hands of future generations. The Governor said devotion and dedication in nation-building are always first, and politics and others are second.
Union Minister of State, Port and Tourism Minister Shri Shripad Naik said, Hon. Prime Minister is always a guiding force to all sections of the people to move forward in the right and proper direction.
He requested the students to make full use of the book and use the mantras given by Prime Minister in his book exam warriors.
Shri Naik emphasised the need for parents, guardians and teachers not to convey their worry to the students and instead create an atmosphere of the festival during the board exams.
Shiv S Shankaran, Shri Damodar Mauzo, Jnanpith Awardee, and Prof Harilal Menon, Vice Chancellor, Goa University, also spoke on occasion.
The first copy of the book was presented to Damodar Mauzo, Jnanpith Awardee, Prof Harilal Menon, Vice Chancellor and later to the students of Dr K.B. Hedgewar School, Cujira, Mustifund High School, Rosery High School, Our Lady of Rosary High School, People High School and to the students of Goa University.
Smt. Reetha Pillai also graced the occasion.
Earlier, M. R. M. Rao, Secretary to Governor, welcomed the guests.
Comment