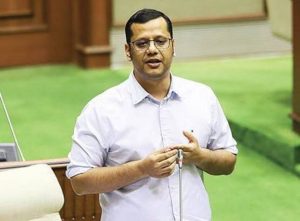 Goemkarponn desk
Margao: Insensitive BJP Government is always coming up with proposals which cause harrasment & torture to needy & poor. Government must show hurry in releasing timely benefits to needy & poor, stated Leader of Opposition Yuri Alemao.
Reacting to the Circular issued by the Social Welfare Department making it mandatory for DSSY Beneficiaries to link their Aadhar Cards with Banks Accounts within three months, Yuri Alemao has urged the Government to extend the date till March 2024.
"Insensitivity of BJP Government towards Needy & Poor stands exposed. Government issues a Circular compelling Senior Citizens, Women & others to go to Banks & link their Aadhar Cards within 3 months coinciding with Festive Season. Why so much of hurry? Extend time till March," stated Yuri Alemao.
"In the last Assembly Session, I had brought it to the notice of the Chief Minister Dr. Pramod Sawant that huge amount of almost 53 crores was pending for last many years. Government had not released money even to Covid Victims," Yuri Alemao pointed out.
There were outstanding dues of various Schemes for Scheduled Caste, Scheduled Tribes, OBC and others. Even Students were not given their financial assistance in time, Yuri Alemao said.
The new Circular appears to be an attempt by the Government to buy time from releasing funds to the beneficiaries as the State Treasury is empty. These gimmicks are now well understood by the Goans, claimed Yuri Alemao.
Comment