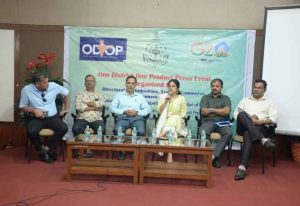 PANAJI: The Goa government in partnership with Invest India is considering to introduce the One-Taluka-One-Product scheme to boost export of local products.
Under this initiative, the state government aims to identify and promote specific agricultural produce and handicrafts from each taluka in Goa.
"By diversifying the range of products associated with each taluka, the government seeks to unlock the untapped potential of local industries and foster sustainable economic growth across the region," said key stakeholders from the Goan cashew and feni industries at a panel discussion on the subject during the ODOP Sampark programme held in Panaji on Sunday.
The event featured a display showcasing a wide range of Goan cashew and feni products.
Under the ODOP initiative for North Goa, cashew nuts have been identified as product one and feni as product two. In South Goa, it is the other way round.
The ODOP Sampark programme was attended by Nandakumar Parab from the Goa Forest Development Corporation, excise inspector Shamba Naik, nodal officer for Geographical Indication, Dipak Parab, president of the Goa Cashew Feni Distillers and Bottlers Association, Gurudatta Bhakta, and president of the Goa Cashew Manufacturing Association, Rohit Zantye amongst others.
Comment