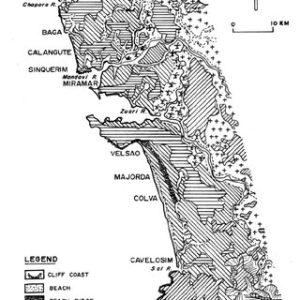 Goemkarponn Desk
MAPUSA: The Goa government is going to hire a company with expertise in satellite imagery to map structures that existed on the state's shoreline before 1991 to understand the extent of the Coastal Regulation Zone (CRZ) violations.
Cabral said that the state government will file an affidavit before the Bombay High Court outlining the structures that existed before 1991, a cut-off date as per the CRZ regulations.
The Goa State Coastal Zone Management Authority (GSCZMA) also served show cause notices to as many as 275 structures. It also gave time to respond with documentation to prove that these structures existed before 1991.
Nilesh Cabral also said that the state government will engage a company with expertise in satellite imagery to map the area post-1991.
He clarified that all structures that existed before 1991 will be protected but those structures which were built after that will have to face demolition:
The state government will submit an affidavit before the High Court seeking more time to implement the demolition order till the satellite imaginary exercise is done, Cabral said.
Cabral said, there is a need to construct new Government complex, where in all Government offices should be under one roof. He, along with Joshua D'souza will soon have a discussion with Chief Minister with regards to this, he added.
Joshua Dsouza, Deputy Speaker of Goa Legislative Assembly, addressing the gathering said that this is a good platform to communicate the grievances, inconvenience faced  in any Government department by the common people.
D'souza also said, it is a good initiativegoodod initiative to bring people to interact with Government officials and solve the grievances. As all the Government officials are present here, there is no space for work to get delayed, he added. Let us utilise the opportunities and make the best use of it, he concluded.
Comment