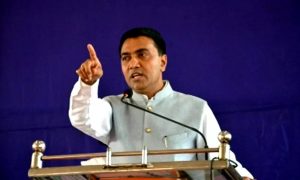 Goemkarponn desk
PANAJI
Goa Chief Minister Pramod Sawant on Tuesday warned hotels engaging touts to flourish their business of facing suspension of excise and tourism licences if they continue the practice.
With complaints from the people of the coastal belt and also from elected representatives, Goa government was forced to crackdown ontouts.
However, after the police action, they were seen again doing the same act of looting tourists visiting the state.
Hence, on Tuesday, Chief Minister Pramod Sawant warned the hoteliers to keep distance withtoutsorfaceaction.
"I am reiterating that touts involved in crimes like assaulting and looting tourists will face action. Earlier, cases were registered against them, but they were getting bail by producing a bond of mere Rs 5,000 as per law. But henceforth, the excise licence and tourism licences of hotels with whom these touts deal will be suspended," Sawant said.
"In recent incidents too, we are taking the same action. The home department will directly write to the excise department and then the licences will be suspended," he said.
"Who engages them in this work? Once his link with hotels is established, we will take action. We will not tolerate incidents of using bouncers and looting tourists… strict action against such incidents has been started," Sawant said.
Recently, three touts were held by Goa police for allegedly confining two tourists and looting their money through UPI transactions in North Goa.
Goa Tourism Minister Rohan Khaunte recently advocated the need to eradicate illegal activities, along with movements oftouts, to save the tourism area from facing brunt this season.
"I have been very vocal against illegal touts. The police have to do their job rightly. Only then these things will be reduced. Otherwise tourism will face a brunt this season also, because of illegal touts and other illegal activities," Khaunte said.
Last tourism season, Khaunte had directed the officials to take action against toutsto provide a safe environment to tourists visiting the state, and later action against touts was taken.
"Illegal activities spoil Goa's name. Be it dance bars, prostitution, drugs or other things, these things should be cleansed along with touts. Last year, we had taken action against touts," he said.
Comment