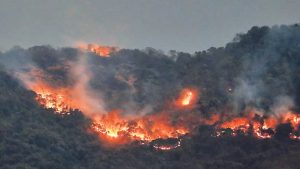 Goemkarponn Desk
PANAJI: As wildfire continues to rage Goa's forests, the State government has alerted its counterpart Karnataka as vast tracts of Western Ghats remained ablaze. Goa and Karnataka will work out effect inter-state strategy to control fire across borders.
"The efforts of the two states' nodal officers to control fires will be strengthened by real-time information sharing. Also, the concerned DCFs (North-WL and South-WL) have been instructed to maintain a high state of alert send out fire watchers to critical spots, and conduct extensive patrols along the border between Goa and Karnataka," said Rane
He further said that for overall direction APCCF, Mr Saurabh Kumar will be coordinating for the state of Goa to make sure everything is carefully supervised.
"For effective inter-state coordination to control fires across Goa and Karnataka, I have spoken with Goa Forests, and we have designated Mr. Jebastin A, IFS, DCF HQ as our Nodal Officer," he added
Rane also said that they have also shared phone numbers of Points of Contact with PCCF, Karnataka, with a request that they notify their Nodal Officer, for effective management.
Minister also said that Goa Forests is actively monitoring the situation with regard to forest fires, and the ground team is acting immediately and urgently to put out all reported flames.
The Indian Navy has deployed helicopters with 'Large Area Aerial Liquid Dispersion Equipment' mounted on them to carry out sorties to douse the fires, a defence spokesperson had said earlier.
As Goa's forest minister, Rane said, "I can't begin to express my gratitude to the Prime Minister. We will keep the Honourable Prime Minister's office updated on a daily basis on the state of fires."
Comment