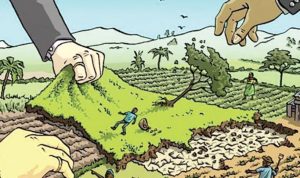 Goemkarponn Desk
PANAJI: ED has provisionally attached 08 immovable properties worth Rs. 11.82 Crore in possession of Estevan D'Souza, Moses Fernandes and Samir Korgaonkar in connection with investigation of illegal grabbing of land in Goa under the provisions of PMLA, 2002.
Under various sections of the Indian Penal Code (IPC), 1860, regarding the illegal grabbing of land/properties by impersonating the original owner and thereby defrauding the buyers, the Economic Offence Cell (EOC) dated February 26, 2014, and the Porvorim police station's October 20, 2013 FIR served as the basis for the ED's investigation into Estevan D'Souza, Moses Fernandes, and Samir Korgaonkar.
According to the ED investigation, the accused people sought out properties where the real owner had passed away and left no heirs or where the heir lived outside of India in order to unlawfully seize the land. Following the identification of the properties that fit the description, the accused committed offenses punishable under sections 419, 420, and 471 of the IPC by using forgeries and impersonating the property's original owner.
They then unlawfully obtained possession of these properties by executing sale agreements or irreversible powers of attorney in their own names.
Septuagenarian Otilia Mascarenhas of Alto-Porvorim filed a complaint on October 20, 2013, alleging that Moses Fernandes of Vasswado, Benaulim, and Jose Avito Pinto do Rosario, also known as Joseph A Pinto, prepared a forged sale deed for her house located in survey number 385/6 of Village Socorro, stole valuable items such as an antique double bed, a carved altar, windows, carved wooden arcs, and other antique items, and damaged her ancestral home.
Moses Fernandes was taken into custody by the Porvorim police on November 22, 2013, and he was subsequently freed on bond.
Comment