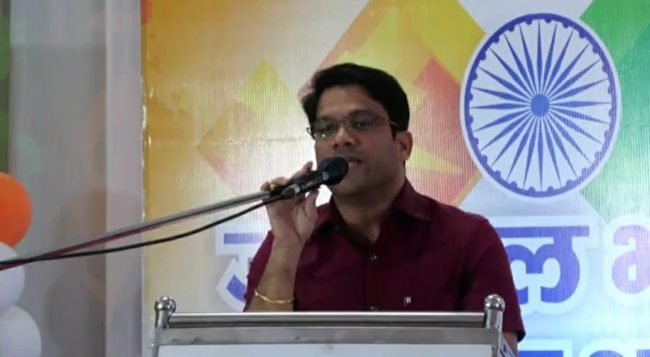 Goemkarponn desk
CANACONA – Stating electricity staff has a lot to be achieved to provide quality services to the consumers, Chief Electrical Engineer Stefan Fernandes said Goa has come a long way in power supply from a meagre 5 MW in Pre-liberation to 650 MW since 2020.
Fernandes was speaking at the Event Showcasing Achievements in Power Sector and Our Vision till 2047 held at Govt Higher Secondary Hall, Shrishthal, which was attended by Speaker Ramesh Tawadkar, Canacona Municipal Chairperson Simon Rebello, Canacona Dy. Collector Ramesh Gaonkar and DNRE Director Aleixo Da Costa, amongst others.
"Improvement of Electrical Infrastructure is of basic importance. Running of any region, State or the country in a better way, their growth in Economy and GDP is solely dependent on Electricity per capita consumption which is an indicator of success – This is very important", Fernandes said.
"Goa's Pre-liberation Load was just 5 MW, with only one Sub-station at Ponda, and electricity supply to only 6 towns of Ponda, Panaji, Mapusa, Vasco, Margao and Curchorem. The loads were improvised as 14 MW in 1970, 250MW in 2000, 450 MW in 2010 and 650 MW in 2020, with 100MW in the last years. Goa has made tremendous Power developments, and its technicalities, as power is equally important as any daily food."
The CEE said the first supply for Grid was achieved in 1967 with the 110 Supa transmission lines, which are, however, not used now, and the 2nd line was set up in 1972. Presently we have 6 lines drawn from other States; 2 are in progress, and if you ask why we needed these is because of demand for more load and progress, with a vision for the next 25 to 100 years. We are confident, and we are going to achieve this too!
"The present load being consumed by industrial and domestic users will be needed by Electric Vehicles in the next 15 years. If we are not improving now when we are doing it. What will be our answer to our children when they ask what other than the money we have kept for them? Electricity infrastructure is of basic importance," he said.
Coming hard on his staff, Fernandes said a lot needs to be done to improve our customer/consumer services.' Only a customer can tell me how best or worst is the product or service. We need to improve our service, Power to All. When I good service means uninterrupted, quality, reliable and economical. We are lacking in our services. We are showing our achievements, but people are telling us where we found lacking, we feel shame, but there is a need to improve our services in all spheres ', Fernandes directed his ire on the several Assistant Engineers, and Junior Engineers presenting the symposium.
"We need to provide good service to the people 'if we want to Uzwal Bharat Uzwal Bhavish, let's work to make 'Uzwal Goa, Uzwal Bhavish'; this will be our bhavish (future)," he said.
Fernandes, stating he is a Canconcar, will start to improve services from Canacona itself ' charity should begin from home, it's my commitment, and we will try to improve our service in Canacona first.
Let's work to make Goa number one in Power Sector.'
Incidentally, Minister for Power and NRE Ramkrishna Madhav Dhavalikar, listed as Guest of Honour, with Chief Guest GLA Speaker Ramesh Tawadkar, skipped the function at Canacona.
Tawadkar Inaugurated and addressed the function.
Comment