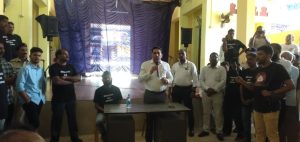 Goemkarponn desk
PONDA: Fearing displacement, Bhoma Villagers on Sunday held a protest rally wearing black clothes at opposing proposed NH expansion plan.
The locals displayed placards and shouted slogans against government and demanding scrapping of bypass.
The villagers have already files petition in High Court against expansion plan, and the hearing is scheduled on 23 August.
NH expansion issue was discussed with local MLA and Minister Govind Gaude which almost lasted for two and half hours.
The meeting was held in Sateri temple hall wherein the locals in one voice demanded scrapping of bypass and urged Minister Gaude to support and join their agitation for bypass.
Minister Govind Gaude said incase people fear they would lose houses they should file objections before 25 August.
He said he is with locals and that if they submitt alternative plan A and B for bypass he would put forth their proposal before concerned authorities.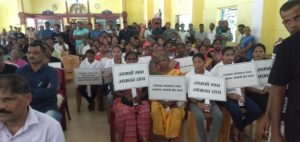 Gaude said some people are politicizing and misleading locals on the NH expansion issue.
"Some people and politicians are politicizing issue creating fear and confusion among locals. Many villagers are unaware about expansion plan. Bhivpachi Garaaj Naa. No houses or temple would be touched due to expansion of existing road at Bhoma as NH expansion with flyover would be done on stilt on existing road," he said.
He said he is also son of farmer and knows problems of locals. He will see that no one would be displace or homeless.
Locals firmly decided not to allow or destroy village and temples for NH expansions.
Last Sunday, two MLAs Vijai Sardesai and Viresh Borkar had extended support to their agitation.
Sateri Temple Committe President Saptesh Naik said they will save the village at any cost.
Sanjay Naik said the existing widening plan was scrapped in 2011 and bypass was planned by former CM Manohar Parrikar and even it was on shown on Regional Plan.
The Central Government is ready to change road NH alignment at Bhoma with bypass but State government and Ministers are not ready.
Following the land acquisition notice for 64 houses and two temples the Bhoma Locals held this second public meeting held at Sateri Temple premises.
Sanjay Naik said that they were kept in dark by PWD and not explained the plan and they were just told four houses would affect but now it appears village is going to be destroyed after several received notice for land acquisition.
He said normally government constructs bypass to save village but only Bhoma Village is exception to this. He said NH expansion plan was scrapped in 2012 after agitation for bypass, however government came again with scrapped project despite bypass shown on regional plan.
He said local MLA is elected recently and should support their agitation.
Sanjay Naik said 45000 square meters land would be acquired including 1030 sq meter land of local temple. He said beside filing objections to land acquisitions in Bhoma the locals even warned to approach High Court on High way expansion plan of existing road at Bhoma. He said Officials at Goa conducted survey for construction of bypass from field as well as from hill at Industrial area.
He said government had taken them granted for their plans. He questioned after conducting survey for two alternative bypass why Goa Government proposed only alignment of existing road to Centre Government for approval?
Comment