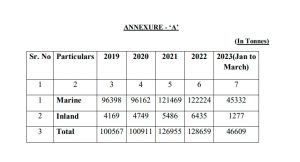 Goemkarponn Desk
PANAJI: Minister for Fisheries Nilkanth Halarnkar said that the total quantity of fish production in the state from 2019 till date is 503,701 tonnes.
Halarnkar said that Marine and Inland fish production in 2019 was 100567, in 2020 it was 100911, 126955 in 2021, 128659 in 2022 and 46609 till March 2023.
He further said that tere is no limit fixed by the
Department for export of local fish andalso to import fish in the State.
According to the information in the reply, the state caught 1.40 lakh tonnes of fish annually in 2022–2023, of which 1.33 lakh tonnes were caught offshore and 6,308 tonnes were caught on land.
However, the fisheries minister stated that "no scientific study has been carried out by the department to define fish spawning zones. "Furthermore, Long established sites of shellfish breeding zones, totaling 125, were identified in consultation with the local fishermen."
Halarnkar responded to a question from Benaulim MLA Venzy Viegas regarding the steps the fisheries department had taken to "provide fish to Goans at cheaper and affordable rates" by stating that his department was putting various beneficiaries-focused state and federal programs into place.
This was done to assist fishermen in lowering their overall operating costs.
"However, the market's supply and demand chains affect fish prices. Since fish market rates are determined by pure market economics, the department is unable to meddle, the official added.
The minister said that the Department has assisted the interested fish farmers/entrepreneurs to set
up cages for fish culture in inland rivers. 20 river cages have been installed at various
inland rivers.
This has enabled utilization of open water bodies for fish production and livelihood generation. The Department provides Financial Assistance under
Pradhan Mantri Matsya Sampada Yojana (PMMSY) for setting up of Raft Culture and Rack Mussel Culture. Department has assisted 10 fish farmers to set up mussel culture units in the inland brackish water areas.
Under PMMSY Scheme, assistance is provided to set River cage fish farming,Biofloc, Recirculatory aquaculture system (RAS), Bivalve culture, Crab culture, Back yard Ornamental unit, Ornamental Kiosk, etc.
The Fresh Water Fish Seed Hatchery produces quality fish seed of Indian Major Carps and common carp. During the year 2022-23, 14.00 lakh fish seed were sold.
Comment