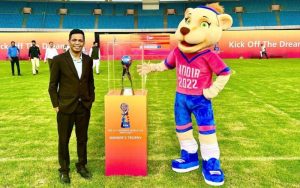 Goemkapronn desk
NEW DELHI: The Pandit Jawaharlal Nehru Stadium in Margao, Goa, is currently playing host to the largest number of matches in the FIFA U-17 Women's World Cup, something that is a thing of pride for the entire state.
The state of Goa has had a long history in Indian Football, and the state government has left no stone unturned to promote the beautiful game and build a better future for it.
"It is a proud moment for us in Goa to be able to host the FIFA U-17 Women's World Cup. Goa is the venue that is hosting the most number of matches in the World Cup, including two quarter-finals and two semi-finals," said Dr. Ajay Gaude, Director, Department of Sports and Youth Affairs, and Executive Director, Sports Authority of Goa. "The hybrid turf that we have installed at the Fatorda is one of a kind, and FIFA, after it's inspection of our venues, said that Goa has the best pitches in India."
In an effort to popularize football among the younger generation, the Sports Authority of Goa has also taken it upon itself to let thousands of schoolchildren into the stadium for every match.
"Football is the state sport in Goa. It is in the blood of every Goan, and they follow the game from their childhood to old age. We are all part and parcel of the game," said Dr. Gaude. "That is why, we have brought at least six thousand kids to the stadium for every match that has been played so far. Sometimes that number has gone up to eight thousand."
The sports director further said that football is an important sport for the State Government as it is through the sport that the overall economy of Goa can also be further improved upon.
Comment