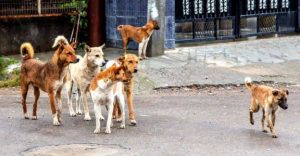 Goemkarponn Desk
PANAJI: This year, the State has seen an average of 40 dog bite instances reported per day. Data from the Directorate of Health Services (DHS) showed that from January through July of this year, there were 8,700 incidences of dog bites reported.
Over the past five and a half years, there have been up to 95,902 dog bite cases registered throughout the State.
There has been a significant increase in dog bite incidences in Goa. Dog bite cases in the state increased by 44% in the years following 2013, when 12,857 instances were reported, with 18,585 cases being reported in 2016. 9,094 dog bite cases were reported in the State between January and May of 2017.
22,527 dog bite incidents were reported in the State in 2018; 22,090 dog bite cases were reported in 2019. The number of cases drastically decreased during the Covid-19 epidemic.
Dog bite cases were reported in 9,556 instances in 2020 and 9,126 cases in 2021.
When the State government lifted the Covid-related limitations, the instances increased once more. 23,903 instances in all were registered in 2022.
The DHS collects this information from cases reported to government hospitals, clinics, private hospitals, and private physicians.
Experts and activists are also shocked by the rising number of incidents of stray dog bites and mauling of kids across the country. Even some pet dogs were also involved in some of the incidents.
After speaking to a number of experts, these are the key reasons found that are leading to such problems.
The rise in the number of packs leads to a scarcity of resources for each dog. This is one of the key reasons for aggressive behaviour in dogs and incidents of attack on humans and other animals.
Comment