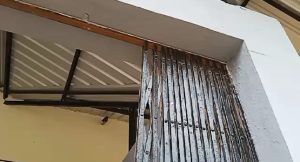 Parents Plan Revolt over Govt Neglecting Khotigao School
161 students, runs with only 2 permanent teachers
Two Primary level teachers, Headmaster only for two days
Three other teachers three days a week
Goemkarponn desk
CANACONA: A High School with 161 students has just two regular teachers, two primary level teachers, and two teachers who come only three days a week, Headmaster twice and two alternately.
Besides, the repair works of this school building started way back in 2018 and are yet to be completed even after a lapse of 6 years.
This is the standard and government apathy towards its own school (Government High School (GHS), Khotigao), which has been performing very well at Board level examinations successively with 100% results at SSC examinations for the last 8 years.
Yes, you heard it right!

The PTA Chairman of Khotigao Government High School, Narayan alias Paiek Velip says the government is not only neglecting the school by not posting required teachers, but the repair works of this school building 6 years down the line continue to drag on and is incomplete even now.
'The repair works of Government High School, Khotigao, which is located in the rural and interior part of Canacona, started in 2018 and has been going on a very slow pace, in a Turtle-Rabbit race style for the last five(6) years, and is still lying incomplete, forced the parents of the students studying here are left to wonder, whether the government is really paying any attention to this school or not. Inspite spending lakhs of rupees by the government, there is no logical completion of repair and renovation works which were taken up in 2018.'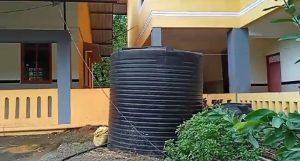 Due to improper execution of works, all four gates, including the main entrance school gate, have rusted and do not open or close and are in static conditions; the classrooms and office floor-works are not completed; electrical works (wires, etc.) are hanging all around and is very haphazardly unsafe, The Hall has no Stage and incomplete, and though the overhead roof is covered with roof-sheets, all the works in the entire building is presently incomplete for the renovation works undertaken in the complex.
'Our school is performing very well, and for the last 8 years, our school has gotten 100% results in SSC, despite not having required teaching staff. There are only two fixed teachers of Science and Computer subjects in this school and while two primary level teachers are employed in this High school; including the Headmaster, Physical Education Tr and Drawing teachers, three of these teachers come only for two-three days a week and that too alternately. Besides, the school has no clerk for administrative work'.
According to Velip, there are 161 students in this school, and many of them have started to withdraw from the school because of negligence by the education department.
"There is no clerk in the school, teachers posting negligence, and the repair work needs to be addressed. Should we view this as the government closing down this school?'," questioned Velip.
Velip stated the matter was discussed threadbare in the recently held PTA meeting; the parents have shown seriousness about this issue and took the view that if the government does not complete the repair work of the school immediately and does not show promptness regarding the posting of teachers, then the parents will take appropriate action, even to the extent of coming out on the road.
Government has a slogan of 'Even the last of the village should not be denied Developments and Educational facilities', but if the government itself is keeping us in such a situation and not providing us these facilities in rural villages, then what we are supposed to do is a huge question.
Comment