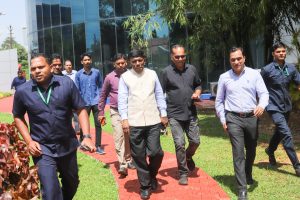 Tawadkar Visits Verna Industrial Estate, briefs VIA(Verna Industries Association) on 'Shram-Dham'
VIA assures support to complete 100 Houses under Shram-Dham.
Goemkarponn desk
CANACONA: GLA Speaker and Canacona MLA Ramesh Tawadkar interacted with the various heads of Industries at the Goa's prestigious Verna Industrial Estate briefing and seeking support for building houses under 'Shram-Dham' concept in Canacona.
Speaker showing keen interest in the production process of the various units, almost individually met the various heads of a few company's and jointly briefed Verna Industries Association (VIA) members on the 'Shram-Dham' concept being enforced by Balram Charitable Foundation (BCF) in Canacona.
According to sources, after the Speaker explained the Shram-Dham concept has already constructed about 20 Residential Houses to the needy people of Canacona, also informed the company heads/Verna Industries Association that the Trust (BCF) has set a target to build and help to provide roof- over-their-heads to over 100 families not having sufficient resources to build them houses on their own.
All the members were curiously interactive on such a innovative concept of Shram Dham and extended their all-out support to fulfill Speaker's dream to complete 100 houses under Shram Dham, revealed a source in Speaker's office.
Speaker has also invited the members of VIA to visit Canacona and witness in person the noble cause of humanity being executed for the needy people.
Members present for the meeting; Chairman, Smartlink Holdings Limited Kamalaksha R. Naik, Verna Industries Association- President Pradip Da Costa, Past President- GSIA and VIA Damodar Kochkar, Past President- VIA Blaise Costabir, General Secretary- VIA
Rajesh Prabhu, Head Manufacturing, Synegra EMS Limited Vijay Rane.
Earlier, the Speaker was given a warm welcome by all the members of Verna Industrial Estate. Speaker very keenly saw the manufacturing process of " Digisol Modem" at the Smart Link, Verna.
According to sources, Speaker's visit of the State's prestigious Industrial Estate and the invite to visit Shram-Dham houses in Canacona –is seen to woo the multinational and mega manufacturing company's/units to seek Funds under the CSR (Corporate Social Responsibility), of the respective company's for 'Shram-Dham' houses.
Comment