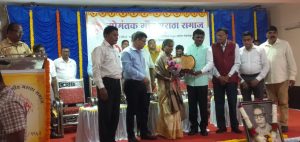 Goemkarponn desk
Ponda: Goa Assembly Speaker Ramesh Tawadkar said the Doors of Political reservation have not closed yet, and for that, We need to be positive and make a continuous effort.
"We are capable of achieving it and convincing central leadership," he said while speaking at the 61st anniversary of Gomantak Goud Maratha Samaj held at Hanuman temple Ponda.
Tawadkar was responding to feelings of frustration and backwardness among some of the community members and disappointment due to the delay in political reservation.
He urged community members to think positively and the achievements of the community. He questioned when STs are leading in education, politics, and sports why should they be called backwards?
"Today in administration ST community working members are 400 whereas in 2003 there were only a few to mention," he said.
He said if we still feel backwards then need to rethink and introspect.
"We should think about becoming a strong samaj. Create your identity and try to work for the upliftment of widows and poor by helping them in building their homes, and educating their children," he said.
"Our true identity is culture and the same is the culture of Goa. Shramdhan Culture needed to be imbibed in the young generation," he said.
On occasion, present on the dais were President of, GGMS President Madu Gaonkar, former MLA Prasad Gaonkar, ZP Dhaku Marcaikar, treasurer Barkelo Gaonkar, secretary Sham Sangodkar, Nemu Marcaikar, Ramakant Gaonkar, SBI Gopal Kerkar and other dignitaries were present.
Madu Gaonkar welcomed the gathering. Former MP Ramakant Angle would be felicitated at his home for his contribution to getting ST status to the community.
On occasion four signatories Felicitated for their contribution were late.Santosh Madu Gaude from Querim. His wife Sonali Gaude accepted the honour. Shrikant Janu Parselkar , Dattaram Gaude and Madu Nonu Cucolienkar were felicitated.SSC Meritorious School students were felicitated.
Comment