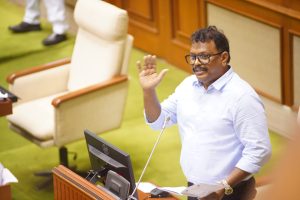 Goemkarponn desk
PORVORIM: Calangute MLA Michael Lobo has hit at his own government over the renewal charges for taxi meters and app-based taxis in Goa.
Speaking on demands for Transport, Lobo said,
Taxi Operators are worried about their uncertain future: Nobody knows what is happening. Is Uber coming? No answers".
He said the Taxi operators are hand-to-mouth people, who are traditional Goans.
"They are self-employed people who do not depend on State for employment and hence their issues have to be looked upon sympathetically. After the High Court order they fitted Taxi meters but now they are asked to pay ₹4600+ for renewal. This has come as a shocker for them. The minister has to intervene and make it something like ₹500 which is affordable for them," he said
Lobo said that Govt also needs to resolve issues related to rent-a-bike or rent-a-cab.
Further speaking, he said the Transport Minister need to see that Tourist vehicles need to be checked at one entry point one place and not stopped everywhere. "There has to be a sticker or a certificate saying papers are in order so they are not stopped at every corner. This is tarnishing Goa's image as a harassment destination," he said.
Also, Lobo added, traffic violators need to be educated about the seriousness of the offences they have committed.
Coordination between the Transport dept, PWD and Traffic cell is very important to correct the road engineering and proper signages, which are a major cause of accidents.
On Industries, he said, there are various problems faced by Industries in Goa.
"There is a lack of infrastructure like water & power and more importantly treatment plants for treating #effluents. There are several polluting industries," he said.
He also demanded an inquiry into the Berger Paints fire. "We need to know what the company was storing in the basement. If not for the hard work of #firebrigade personnel, the entire village around would have been engulfed in fire. We need to read to the root cause of this. Shockingly, there is not even a #FIR on this company yet. These polluting industries need to be shifted where there is no human settlements," he said.
Comment