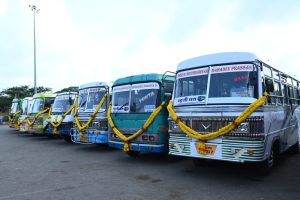 Transport Min launches 25 buses in Margao under Mhaji Bus Scheme
Goemkarponn desk
MARGAO: Transport Minister Mauvin Godinho today said that in the next six months, his department will develop an app for KTC wherein passengers will be able to track the bus.
Transport Minister Mauvin Godinho flagged Off Mhaji Bus Private Stage Carriage Buses at KTCL Bus Stand, Margao.
"In the next six months, will develop an app for KTC wherein passengers will be able to track the bus; we need to upgrade our self & systems too," said Minister Godinho.
He said that the government will bring more electric buses into the fleet of the state government-operated Kadamba Transport Corporation to give good service to the people of Goa.
"As mining is suspended, we are dependent on tourism (for the economy). We have to take steps and decisions to increase the footfall of tourists. As both airports, Dabolim and Mopa will function, tourism will increase and we will need more Kadamba buses. Hence, we will try to get more electrical buses," he said.
The Minister said that today we order everything on the phone. This is a new era. Thus we need to give facilities of transport to book on the phone," he said urging app-based transport should not be opposed.
He said that Multimodal Transport App will help make advance bookings.
"We need to think how people can get cheaper and affordable transport mode," he said.
Speaking further, Godinho said at bus stop in Margao is in poor shape and to build the Margao KTC bus stop, he has ordered KTC authorities to evaluate the cost and carry out the work from KTC Fiume through PWD. This will cost 3 crores.
"My goal is to replace all of the outdated buses in Panaji and make the city's transportation system smart. We have 48 buses in the program, and in the coming two weeks, we'll launch it," he added.
Meanwhile, a total of 25 buses under the Mhaji Bus Scheme had been launched today at Margao.
Comment