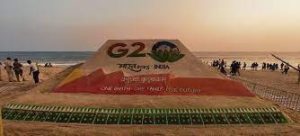 Goemkarponn desk
PANAJI: The state of Goa is playing a crucial role in hosting over 1500 delegates at the 4th Energy Transitions Working Group meeting under India's G20 Presidency, showcasing its commitment to renewable energy and sustainable development.
The 4th Energy Transitions Working Group Meeting (ETWG) is scheduled to be held in Goa from 19th-20th July'2023.
This significant gathering of global energy leaders will have the participation of over 1500 delegates from G20 member countries, special invitee countries and International Organisations such as the International Energy Agency (IEA), and United Nations Environment Program (UNEP), .marking a crucial milestone in international efforts to address energy challenges and foster sustainable development.
The Energy Transitions Working Group was established to address the global challenges of energy transition and sustainability, and brings together representatives from G20 countries, international organizations, and other stakeholders. This fourth meeting will serve as a crucial platform for discussions, collaborations, and the exchange of best practices in achieving a sustainable and inclusive energy future.
With over 1500 delegates expected to attend, the event promises to be a significant milestone in advancing the goals set forth by the G20 Energy Transitions Working Group. Participants will include ministers, policymakers, experts, industry leaders, and representatives from civil society organizations, who will gather to deliberate on key energy transition issues and identify actionable strategies.
Sanjit Rodrigues, Nodal Officer for G20 in Goa, expressed his enthusiasm for hosting this prestigious event, stating, "Goa, known for its natural beauty and vibrant culture, offers an ideal backdrop for this important gathering. We are honoured to host the distinguished delegates from G20 countries for the 4th Energy Transitions Working Group Meeting in Goa.
This meeting presents a unique opportunity for fruitful discussions and collaborative action to address the pressing energy challenges of our time. We are committed to working together with our international partners to ensure sustainable and inclusive energy solutions for the benefit of our people and the planet. Delegates will have the opportunity to immerse themselves in the unique atmosphere of the city and experience its rich heritage during the meeting".
The six priority areas, as outlined under India's Presidency, include energy transition through addressing technology gaps, low-cost financing for energy transition, energy security and diversified supply chains, energy efficiency, industrial low carbon transitions and responsible consumption, Fuels for Future (3F), and universal access to clean energy and just, affordable, and inclusive energy transition pathway.
Participants can look forward to engaging plenary sessions, interactive workshops, and insightful presentations from renowned experts in the energy sector. The meeting will also provide a platform for fostering partnerships between public and private stakeholders, enabling joint initiatives and investments to drive the energy transition forward.
The G20 4th Energy Transitions Working Group meeting to be held in Goa will reinforce the commitment of G20 member nations to advance the global energy agenda and accelerate the transition to a cleaner and more sustainable future. It is anticipated that the outcomes of this meeting will contribute to shaping international energy policies and promoting sustainable energy practices worldwide.
Comment