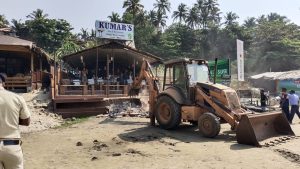 Goemkarponn desk
PANAJI: Based on a demarcation survey conducted by the Office of Settlement and Land Records, the Department of Tourism, Goa, on Friday, demolished 16 illegal structures for encroachments in Anjuna village 
In a bid to create better public spaces for the public and to crack down on illegalities, the Department of Tourism (DOT), Goa, has recently instituted a survey through the Department of Survey, Settlement and Land Records where-in the entire 105 km coastline of Goa is being surveyed to check for illegal encroachments in beach area /Govt property. 
As part of the survey, boundaries are being identified between (private) land /surveyed areas, and the DOT properties and inspections are being conducted. 
Action is being taken against establishments such as restaurants, shacks, hotels and other properties which have encroached on the Govt. property. 
As part of the ongoing measures to curb illegalities and encroachments, the DOT has today demolished 16 illegal structures that were encroaching on the beaches at Anjuna Village within the NDZ area and Colva. 
The Department, in a press note, said it will continue its action against the remaining structures on other beach stretches of Goa in the days to come. 
The land survey is also being marked on a digital GIS platform, and boundary stones are being erected where the areas have been demarcated so as to clearly identify beach areas.
 Marking on GIS will help department officials identify the boundaries, even when the Boundary stones have been removed or tampered with by vested interests. Concerned establishments and other illegal structures that have encroached on beach areas are also being forewarned of imminent action in the days to come.
The Department of Tourism says it is serious about cracking down on illegalities and illegal hotels. 
Safe access to designated public spaces for citizens and tourists is pivotal for Goa's tourism industry, and it will continue to take action against malpractices by penalising miscreants in the future as well. 
The DOT has advised the business establishments to operate legally within their boundaries or to face demolition at their risk and cost without any notice.
Comment