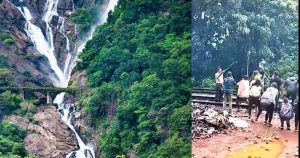 A video purportedly showing the tourists being stopped at the railway tracks has gone viral on social media.
Goemkarponn desk
MOLLEM: Days after Goa's forest department barred visitors' entry at waterfalls inside wildlife sanctuaries in the state, hundreds of tourists were on Sunday morning seen walking along railway tracks near the picturesque Dudhsagar waterfalls, and were stopped by officials of the Railway Protection Force (RPF) and the forest department. The tourists were on their way to the waterfalls, officials said.
A video purportedly showing the tourists being stopped at the railway tracks has gone viral on social media.
After the incident, South Western Railway advised people against walking along the tracks.
"We urge you to savour the beauty of Dudhsagar falls from within your coach. Walking on/along tracks not only endangers your own safety, but is also an offence under Section 147 and 159 of the Railway Act. It can also endanger the safety of trains," South Western Railway said on its official Twitter handle.
"De-boarding at Dudhsagar or any other station along Braganza Ghat is prohibited. All passengers are requested to cooperate and follow rules laid down for your own safety," it added.
Officials said that trekkers and other tourists had been taking trains that pass near the area to get to the waterfalls because some of the roads leading there had been closed following heavy rain.
An official said the people had come from both the Karnataka side and the Goa side, and were walking along the tracks to reach the waterfall. "They claimed that they were unaware of the recent ban on visiting waterfalls in the state," the official said.
Praveen, who organises treks to the Dudhsagar falls, said trekking has not yet officially started at the waterfalls this season.
"The Forest department has not issued the requisite permissions yet. But some people illegally organise such trekking trips during the monsoon," he said.
On July 11, the forest department ordered that entry of visitors at waterfalls inside wildlife sanctuaries in Goa was prohibited on account of heavy rain, and in the aftermath of a spate of drowning incidents reported in the state.
Moreover, after two men drowned at the Mainapi waterfalls in South Goa last week, the South Goa district had issued an advisory asking local residents and tourists to refrain from entering lakes, rivers, waterfalls, mining pits and other water bodies during the monsoon season.
Comment