GOACAN urges govt to contribute to prevention of drowning deaths
Meeting held at Ponda to discuss safety and prevention of drowning deaths in open wells, tanks and rivers in Ponda Taluka.
Goemkarponn desk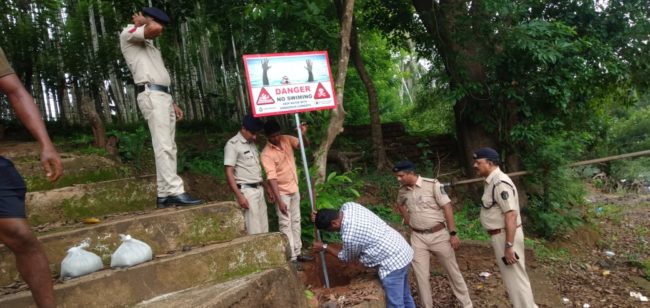 He said Ponda should lead Goa by adopting measures to prevent drowning cases, as most drowning cases occur in Ponda. He said five drowning cases occurred in Ponda in less than two months.
In response to its appeal, Ponda Police installed a danger board at Okambi Dharbandora, where there there were incidents of picnickers drowning.
Ponda DySP CL Patil, PI Vijaykumar Chodankar were present for the meeting.
The meeting was called today by Ponda SDM (Deputy Collector) Pradeep Naik at the request of GOACAN to discuss the Prevention of Drowning in open Tanks, well and rivers in Ponda Taluka. PWD, ZAO, WRD, Police, Fire, Mamlatdar & BDO officials were present for the meeting.
Discussions on providing railing to irrigation tanks in Kulagars, wells and rivers were discussed on account of recent drowning deaths. Goa Can Convenor Roland Martin's suggested finding out a number of tanks .without cover and with the cover survey. Tanks, pits, should be fenced.
Roland Martin's asked each department to co-operate in bringing out a solution.
"To find out how many mining pits are in Ponda. Every quarry owner is responsible for covering the pits when they are abandoned," he said.
He asked for a compilation of cases.
"In less than two months, five drowning cases occurred in Ponda. Also, upload schemes in Konkani and Marathi and two boards at river banks," he said.
Martin's pointed out that 16.5 lakh compensation is directed by NGT to be paid to the family of four deceased who drowned at open pits at Tuem.
He said that while releasing water in Bandara there should be alerting system.
Comment