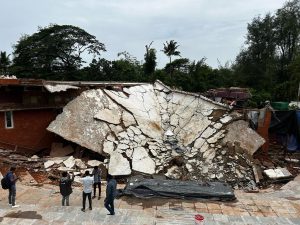 *Slav that collapsed part of an open air auditorium
*Goa CM seeks report from PWD over the incident
Goemkarponn Desk
PANAJI: A huge portion of under renovation Kala Academy building collapsed in the intervening night of Sunday-Monday. The portion of open auditorium came down crashing with authorities yet to ascertain the cause for the same.
The public works department (PWD), which is the nodal agency for undertaking Rs 56cr renovation of the premises, inspected the site.
The Chief Minister Pramod Sawant has sought detail report from PWD and is also likely to order an inquiry.
The opposition, who had smelled massive corruption in the renovation work, slammed the government for disaster and demanded that the Minister for Art and Culture Govind Gaude should resign.
Built in the 1960s, the building was among the first cultural centres in the newly liberated territory of Goa and quickly emerged as a centre for art, culture and music. Its main auditorium is named after Dinanath Mangueshkar, the father of Lata Mangueshkar, who hailed from Goa.
However, the facility is shut for more than two years due to the renovation. The government had set December 2022 deadline to throw it open for public.
Chief Minister Pramod Sawant reacting to the collapse said that PWD Principal Chief Engineer (PCE) is conducting inspection at Kala Academy.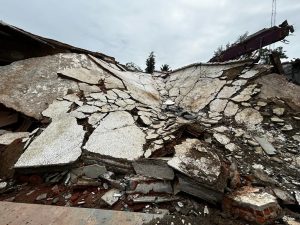 State Art and Culture Minister Govind Gaude said, "We have asked for a report from the Public Works Department over the incident." He said the slab that collapsed was not part of the main building which is currently being renovated."
"PCE is conducting inspection and all further details only after inspection report is submitted," said CM Sawant.
Goa Forward Party (GFP) Supremo and Vijai Sardesai
"IvI've been attacked mercilessly by @BJP4Goa for exposing the massive irregularities in the renovation of our prestigious Kala Academy. Today, I stand vindicated. The grand corruption #Goa's Shahjahans are perpetrating will eventually lead to the destruction of Goa. What excuse does the @GovtofGoa have now?," Questioned Sardesai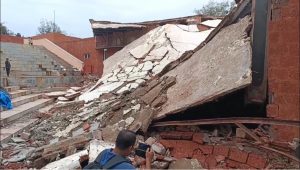 He further asked whether the minister who was defending this disaster quit and hand over charge to someone clean and competent before the whole building collapses?
"The Govt has moved with unheard of speed to cover the collapsed portion of the Kala Academy to hide from the people of Goa the unprecedented plunder and loot that this govt is engaged in at their expense" he added
Sardesai also said that If these enemies of Goa think they can hide their anti-Goan misdeeds and blatant corruption from Goemkars, they are not only corrupt and incompetent, but also stupid.
Comment