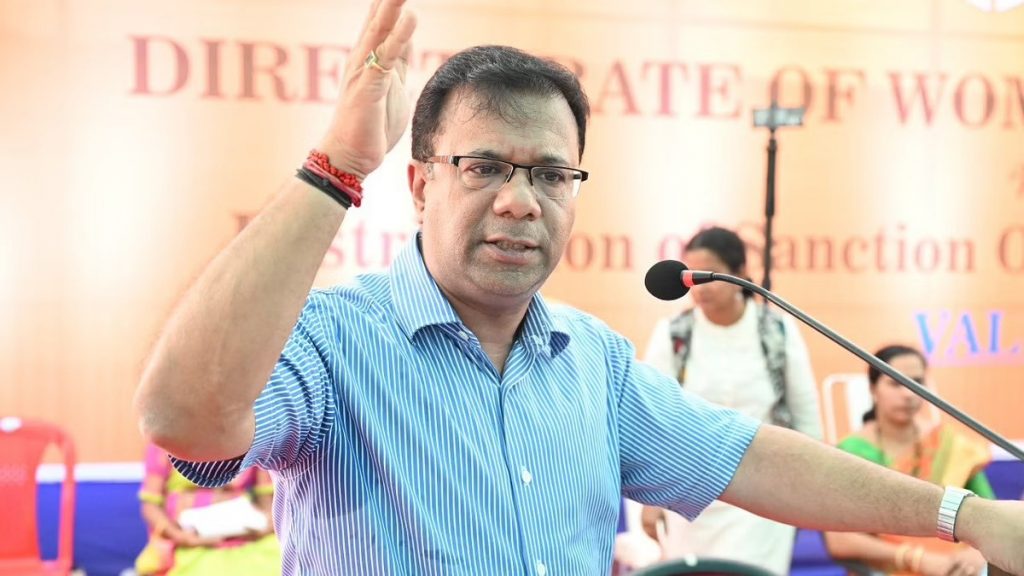 Goemkarponn desk
PANAJI: Following demands for scrapping of TCP amendments, the Town and Country Planning Minister Vishwajit Rane said that the Golf Course and Film City plans already existed in Regional Plan 2021.
Rane, taking to social media, also took a dig at the people opposing amendments saying the people had also opposed five-star hotels in Goa years ago, but today they have become the backbone of Goa.
"While deciding which activities would be permitted, we took great care to ensure that these activities would not densify the areas and place an additional burden on the State's infrastructure. We have also focused on & emphasized not causing any environmental damage," Rane said.
He said that to accomplish this, we have decided to engage the services of IGBC, who will assist in designing and monitoring various projects.
Rane said the aspects related to resource conservation will be adhered to, which will include site planning and management.
He also said that environmentally friendly, landscape species selection, material selection, energy efficiency, Operation and maintenance, installation of Sewage Treatment Plants, creation of catchment areas to ensure that the project is self-sufficient in water requirements & Organic/non-toxic fertilizers to be used.
"I would also like to draw attention that the provision for Golf Course & Film City is already made under RPG-21. However, clarity is now provided by these regulations.
We are here to accept your constructive & positive suggestions & are here to work toward the benefit of our State," he said.
He further said that as a developing country with progressive governance, Goa must be aware and practical, because lag will stifle economic growth and progress.
"Years ago, a few NGOs took to the streets to protest the entry of 5 star hotels into the State; today, with our main financial backbone mining being shut, these very hotels are keeping the State's finances afloat through tourism," he said.
Rane said that Tourism is the main driving force of the State's economy and as such, tourism projects must be encouraged and incentivized.
"As a result, we have decided that the facility of additional FAR, which is only available to 4 and 5-star hotels, will be extended to 3-star hotels/resorts, which are scattered throughout the State of Goa, facilitating additional accommodation in other parts of the State and generating additional revenue for the State," he said.
He further added, TCP have considered that the TDR policy is already introduced under regulations, which provides for transferable development rights for posterity and is intended to preserve natural reserves and resources of the State.
"Additionally, Goa is synonymous with Greenery; through our introduction of Green Certification, we are committing to upholding the virtues of natural and sustainable living," he states.
Rane further states that the Government is here to be open and accessible to the Goans and is willing to listen to new notions and requests from all. At the same time it is also important that the Govt. favours reform and plays a big role in improving and progressing the society.
"Our decisions and amendments were put forth publicly and are open for 'Objection Suggestion', where positive suggestions from you will be acknowledged and acted upon," he said.
He further says, "As a minister, I am not an expert in every area, hence to ensure balanced development, a proper representation of professional bodies on the Board, which I felt necessary to have, to ensure transparency as we come out with the new policies in the interest of the State. Accordingly, I have appointed members of the following professional institutions as Special Invitees on the Board, and during the meetings, their views are taken into consideration while deciding on various aspects, Confederation of Real Estate Developers Association of India, CREDAI, Indian Institute of Architects, (IIA), Confederation of Indian Industry (CII), Institution of Engineers (India), IEI, Institute of Town Planners, India, GRC."
Rane further says he is here to ensure the best is achieved for the people and the State holistically. Something that is not in the interest of the State and the people, will not be taken up.
"Keeping in line with the ease of doing business and to minimize the time of approvals, the powers are now delegated for giving Technical Clearance/Development Permission for construction up to 500 m2 in the approved layout to empanelled Notary Architects/Notary Engineers," he said.
Comment