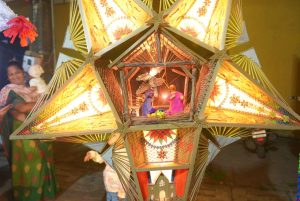 Goemkarponn desk
PANAJI: Governor of Goa P.S Sreedharan Pillar and Chief Minister Dr Pramod Sawant extended greetings and
best wishes to the people of the State, especially the Christian Brethren on the auspicious occasion of Christmas celebration.
In his message, CM Sawant said that "Christmas is celebrated on the birth of Jesus Christ. Christmas is a festival of brotherhood and sharing happiness which gives a message to follow the ideals of sacrifice, love, harmony, mercy & peace. As we celebrate this holy festival, we must emulate Jesus Christ's eternal message of love and forgiveness by extending a helping hand to everyone".
CM further said that "India has a tradition to celebrate all the festivals with great zeal, brotherhood and happiness. Christmas is a pious occasion to strengthen this tradition & it is a time for peace and devotion. Christmas is a season of goodwill, as it signifies the reconciliation of God with mankind".
"On this occasion, I pray to the Almighty for the happiness of people & development of the State. Let us all unite and work for the prosperity of the State by directing all our efforts and energy in ensuring the progress of our State. Merry Christmas to all," Chief
Minister concluded.
The Governor of Goa Pillai has extended his
heartiest greetings and warm wishes to the people of Goa on the occasion of Christmas.
In his message, the Governor said on this auspicious occasion of Christmas, we deeply remember the Lord Jesus Christ, who is the Holy Son of God. He gave us the valuable message of peace, tolerance, forgiveness, love and brotherhood.
The Governor said, in this country, we have a glorious tradition of living together in amity, social solidarity, mutual understanding and unity, in spite of being a multi-religious and multi-cultural society, which helped us to achieve national glory and socio-economic progress.
On this occasion, let us re-dedicate ourselves to putting into practice the great message of Jesus Christ to live in peace, strengthening fraternal ties and resolve for all of us to work together for the prosperity and glory of our motherland.
On this joyous occasion, may Lord Jesus Christ shower choicest blessings on the people of Goa and may this occasion bring renewed peace, happiness and prosperity to all, the Governor concludes.
Comment