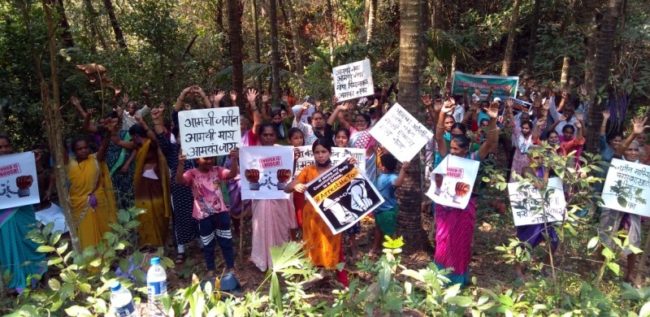 Goemkarponn desk
PERNEM: The farmers and landowners from Tulaskarwadi and Shemecha Advan Mopa village, who are set to lose their cashew plantation due to the ongoing link-road connecting the Greenfield International Airport, held a protest today demanding stoppage of the work.
Land losers, including men, women and senior citizens, participated in the protest and sat in the forest area as a mark of protest, raising concern over the project.
The protestors pointed out that the project is already challenged in court, and the case has been delayed due to the covid19 pandemic.
They alleged harassment by the government authorities.
Warkhand Nagzar Village Panchayat has also issued a show-cause cum stop-work notice to the contractor engaged in the work after getting complaints of objection by Mopa link road affected farmers.
In the notice, the panchayat has served a seven-day deadline to furnish copies of permission/licences of all the relevant documents such as Environment Impact Assessment (EIA) report, Forest Clearance, sanad of the property received for the ongoing development works failing which action, as contemplated under sub-Sections 4 and 66, will be initiated under the provisions of The Goa Panchayat Raj Act, 1994 and the relevant law in force.
The farmers also pointed out that the government is progressing with the work of link road legally by following all the procedures then; why are the farmers' names still highlighted in Form I & IV.
"The government is not ready to listen to us. When our land was acquired, we were promised that our youth and locals would be given jobs. However, it is still not fulfilled. Our educated youth are working as security guards while the outsiders are working at the higher posts," the farmers said.
Comment