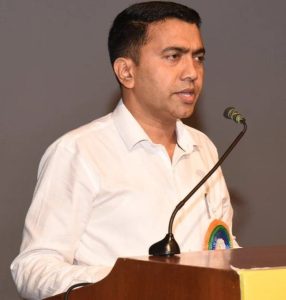 Goemkarponn Desk
RAIPUR: In Chhattisgarh, a state that is close to holding elections, Chief Minister Pramod Sawant was on a two-day party work trip on Sunday when he sang praises of Goa's fiscal management.
"Goa has begun economic measures to cut debt. In the upcoming years, the State will pay off all of its debt. In order to fund infrastructure projects, low interest loans would now be available from organizations like SIDBI and NABARD, according to Sawant, who was speaking at a press conference in Rajnandgaon, Chhattisgarh.
At the news conference, Sawant was accompanied by Raman Singh, a BJP leader and former chief minister of Chhattisgarh.
According to Sawant, Goa has seen difficult economic times as a result of the numerous Covid-19 waves, which have severely harmed tourism and stopped the mining business in Goa.
The process to restart mining has started, and tourism has also resumed to flourishing levels, resulting to an increase in income, Sawant said. He also added that concurrently fiscal management is tuned in to lower debt levels.
"Starting now, the government will only borrow from companies that offer low-interest loans, like SIDBI and NABARD," he declared.
Sawant's assertions about the State's debt and smart fiscal management are in conflict with concerns about the growing debt and the administration's ongoing financial difficulties, which are frequently used by the Opposition as a stick to hit the government with.
The net debt of Goa is estimated to be around Rs 24,000 crore, with interest and loan repayment accounting for almost a third of yearly spending.
Sawant brought up the Uniform Civil Code (UCC), which he claimed was already being used in Goa, while also addressing other issues.
"Goa is the first State to adopt a uniform civil law in the nation. The use of the same standard across the nation would be a positive thing. The uniform civil code is a good thing, Sawant stated.
Comment