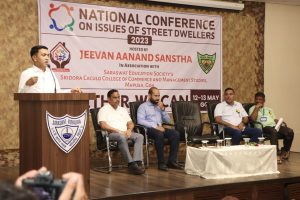 Goemkarponn Desk
PANAJI: Chief Minister Pramod Sawant said that his government is working to ensure that by the end of next 25 years no one will have to remain a roadside destitute.
CM Sawant was addressing the National Conference on issues of street dwellers.
"Govt is running 12 Ashrams through Provedoria in all Talukas of Goa. 2000 elderly people are housed in govt owned old age homes. In addition 6 to 7 NGOs working for the welfare of senior citizens and 13 to 14 NGOs working with children are being supported by the govt," said Sawant
He further said that under the orphan scheme Rs 3,000 per month is given to guardians of orphan children or children from low income group with single parent.
Scores of people are found to be living on the pavements across the state, making these pavements their homes. These street dwellers have no families or are abandoned by their families due to their mental health or old age.
Goa Chief Minister Pramod Sawant on Friday stated that India needs more NGOs with passion working to help the destitute. Sawant was speaking at the National Conference on Issues of Street Dwellers at Mapusa.
The CM added that the country's various ministries and organisations are always willing to help. Sawant stated that in order to inculcate values in the young, the Goa government. has initiated the Mulyavardhan Shikshan, a concept-value-based education programme, to educate the next generation to care for the community.
Comment