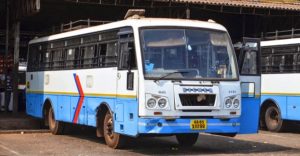 Goemkarponn Desk
PANAJI: State cabinet has given green signal to hire private buses to run through KTC on pilot basis.
On pilot basis, KatC will operate private stage carriage buses under hiring scheme on two major sectors – Panjim Ponda- Sanvordemand and Margao – Canacona.
There are 144 stage carriage buses which are operated on Panjim-Ponda- Sanvordem route and 41 buses on Margao-Canacona route coverinf 39600Kms per day.
The programme has already generated interest from 200 bus operators, who have expressed their desire to participate on major routes such as Canacona, Margao, Panaji, Ponda and Curchorem.
If the project becomes successful, it may be expanded to other major routes in the state, providing passengers a more reliable and efficient system of transport.
This model is expected to eliminate the unnecessary competition on routes and also the occasional rash driving while overtaking to obtain more passengers. Moreover, there will be no worry about fewer passengers or loss-making routes, as the bus operators will be paid fortnightly based on the kilometres covered.
Officials of KTCL said the project will help the government reduce its financial burden by cutting down on the number of loss-making routes. It will also improve the overall passenger service, as passengers will receive assured bus service on all scheduled trips.
The state government will be providing financial support for the programme through a Viability Gap Fund (VGF) to bridge the gap between ticket revenue and the cost of operation. This will enable KTCL to improve the overall passenger services and ensure that the programme is sustainable in the long run.
The transport department has clarified that there is no need to amend the motor vehicle rules to bring private buses onto a single platform.
Comment