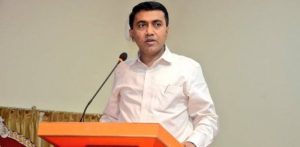 Goemkarponn Desk
PANAJI: Chief Minister Pramod Sawant today said that that if youth in Goa lack the skills in tourism and hospitality sectors, then people from other states would take away those jobs from them.
"There is a vast scope in the tourism and hospitality sector in Goa. You will not find such scope anywhere else in the country. In Goa there is wide scope in these areas," said Sawant
He further said that the way star hotels are established in Goa and increasing footfall of tourists, in future Goa will become tourism capital of India.
"We are targeting high-end tourists. To cater to their needs we need infrastructure and human resources. Private players are ready to prepare infrastructure in the state," he added
Sawant said that many people are approaching but they don't have that much human resource.
"If our youth are not skilled in these sectors then outsiders will come and grab the opportunity," Sawant said.
Earlier in October last year, the Chief Minister had said that if youth from the state fail to grab job opportunities in hospitality and tourism sector, then job seekers from other states will grab them.
"There are many opportunities in the coastal belt. In the next five years more than two lakh jobs will be created in the hospitality and tourism sector. If we don't grab these opportunities then youth from other states will grab them," Sawant added, urging youth to skill themselves.
"Be it from Assam or other states, youth from these states come here and do white collar jobs (in the private sector). If we try to take it then we may also get it. Youth need to grab opportunities in these areas," the Chief Minister said.
Comment