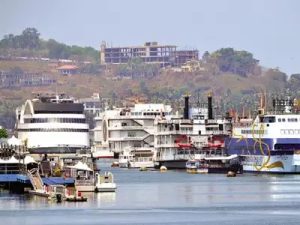 Goemkarponn desk
PANAJI: The offshore casino vessels now have No Objection Certificates (NOCs) from the Goa Coastal Zone Management Authority (GCZMA) to carry on with their operations in River Mandovi.
The Environment Impact Assessment (EIA) study that the casino operators submitted and the site inspection that the GCZMA's expert members carried out later formed the basis of the decision made at the meeting that took place in the final week of October.
In response to a National Green Tribunal (NGT) order from the previous year, the casino operators Golden Peace Infrastructure Pvt Ltd (MV Majestic Pride), High Street Cruises and Entertainment Pvt Ltd (MV Caravela and MV Casino Royale), Golden Globe Hotels Pvt Ltd, Goa Coastal Resort and Recreation Pvt Ltd, and Delta Co-Op Ltd (MV Horsehoe Casino) submitted an application for Coastal Regulation Zone (CRZ) clearance.
The GCZMA stated that the casinos had received an in-principle NOC in April of this year. "The authority decided to grant the approval to operate the casinos in the riverine area after detailed discussion," the statement stated.
By order dated April 26, 2022, NGT mandated that all offshore casino vessels operating in River Mandovi must obtain Coastal Regulation Zone (CRZ) clearance. Until they receive CRZ clearance, NGT had prohibited all vessels and casinos from operating in the CRZ IV Zone, which covers the riverine area from LTL to 12 nautical miles.
As a result, these six offshore casino operators applied to the GCZMA for CRZ authorization.
In an appeal contesting the legality of Highstreet Cruises and Entertainment Pvt Ltd's Deltin Caravela's operations in the CRZ-IV region without the necessary CRZ clearance under the terms of the CRZ Notification, 2011, the NGT Principal Bench issued an order.
Comment