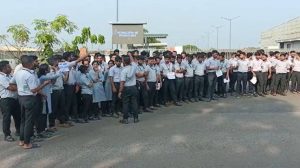 Goemkarponn desk
PANAJI: Goa State Industries Association (GSIA) compliments Atanasio Monserrate, Minister for Labour and Employment, for taking a firm stand that the striking workers of IFB Industries in Verna have violated the terms of the contract and are guilty of misconduct.
"This decisive stand taken by the Minister despite pressure from labour leaders and politicians will send a clear message to the other companies and the employees to have a cordial working relationship. A friendly working atmosphere is a must to get more investment and generate more employment in the State," GSIA said.
It said that IFB Industries Ltd., who GSIA member, took over a sick unit in Verna Industrial Estate to start this new activity of manufacturing high-technology air conditioners just a few years ago.
"The company took a challenge to compete with Chinese AC manufacturers and faced stiff competition. The company has brought in investment and generated employment in the State. We find that the company has been employing mostly Goan employees in their earlier washing machine unit, which is one of the first units to be started in Goa," GSIA says.
Further, they said, the 130 employees who decided to go on strike were taken on a three-year fixed contract for this new unit.
"The company never decided to lay off the staff. They only wanted to extend the contract by another year as the unit, due to covid pandemic and the economic slowdown, could not achieve their anticipated sales projections and is still in the red. The employees expecting or being misguided by some vested elements took the wrong decision to go on strike during their contract period, which is a gross misconduct. IFB Industries is an anchor industry and has created many ancillary units which have promoted entrepreneurship and more employment in the State," GSIA said.
"We are happy that the Minister has given the correct advice to the striking workers to join back and give an apology so that the company can condone their misconduct and give them extension of service. We feel the labour leaders and the opposition should not take advantage of the situation and vitiate the friendly employer-employee relations in the State of Goa," it says.
Comment