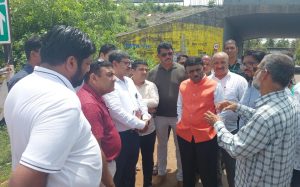 Goemkarponn desk
CANACONA: A team of officers from Goa State Infrastructure Development Corporation (GSIDC) inspected the NH66 road from Char-Rasta to Mastimoll (near Police-Station) on Thursday.
GSIDC team led by Project Director Sudesh Sangodkar reached Char-rasta was received by Canacona Municipal Council Chairperson Ramakant Naikagaonkar, before joined by Canacona MLA and GLS Speaker Ramesh Tawadkar and others.
'It is just an inspection of the site, as Chief Minister has given a de-facto approval for development of the highway (NH66) stretch from Char-Rasta to Mastimoll', informed a BJP party functionary when GSIDC officers were tightlipped to a pertinent question from the media.
The GSIDC team alongwith the political representatives, however, first examined in details the availability of the space beyond both sides of the highway road near the Power House and at the entry of Manohar Parrikar Canacona Bypass Road (MPCBR) and at 4-Cross roads(Char-Rasta ) junction. It is learnt a decorative Round-about is being planned to beautify the either MPCBR or Char-Rasta entry-point.
Alongwith CMC Chairperson Naikgaunkar also present were Dy. Chairperson Narcisco Fernandes, ex-chairperson and Councillor Simon Rebello, Ex-Dy. Chairperson and Councilor Amita Pagi, GCCS Vice-Presient Samba NaikDesai, PWD Ex-AE Engr Subhash Pagi, Ex-Executive Engr (Electricity) Engr. Santosh Lolayekar, BJP Canacona Block president Vishal Dessai, Sidhesh Dessai, also accompanied the visiting GSIDC team who after inspecting both the Sites, went about towards Nagorcem to Chaudi observing minutely the space available at the old Bus-Stand, Chaudi and later had the site inspection of the NH66 road towards the Police Station at Mastimoll.
Even though, most of the inspecting team members were tight-lipped stating the matter is still in the bud and nothing specific can be said at the moment, it is learnt that Chief Minister had presently given a go ahead approval to carry out the preliminary examination of the site for some intended developments, mostly beautification of the road with pavers, walking track, decorative Lamps, etc.
It may be recalled that during the Inauguration of MPCBR, Chief Minister Dr. Pramod Sawant has agreed in principle to a demand to develop the entry point with a satellite market, as the highway traffic will not only bypass Chaudi, the commercial hub, but also Char-rasta, Poinguinim Bazaar, Maxem Bazaar will be receiving less number of motorists passing through the areas after opening of the MPCBR. Recently, CMC had proposed and made a demand for beautification of the highway stretch from Char-Rasta to Police Station (Mastimoll) with a walking tracks and other amenities alongside the highway.
Adrian Fernandes thanked all those who helped him to blossom as a writer and requested everyone to put in efforts to speak and write in Konkani.
DKA President Celso Fernandes and DKA Vice-President William Fernandes also spoke on the occasion.
Comment