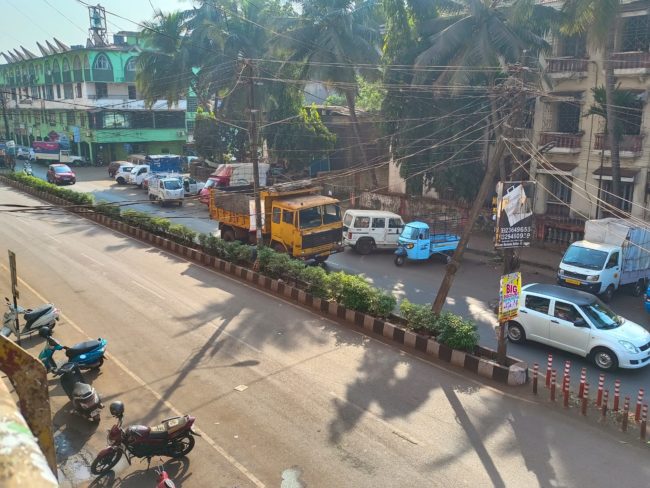 Goemkarponn desk
VASCO: Vasco locals have questions about the movement of heavy vehicles from the busy city road despite the newly opened Varunapuri to Sada flyover.
Traffic department authority revealed that some internal road connectivity to Port is still pending, and once it is completed, the heavy vehicle traffic will be diverted via the flyover route.
Locals from Vasco are expressing surprise that despite a state of the art flyover recently inaugurated by the National Highway Authority, the heavy vehicles continue to ply from the Vasco city road.
People in the past have also complained about the dust pollution accidents taking place on the city roads due to the speedy movement of heavy vehicles. The Mormugao Municipal Council had also taken a resolution to forbid heavy vehicles transport from the city a few years back.
Arjun Harlarnkar, New Vaddem local, opined that the remaining section of the Verna to MPT four-lane road was finally inaugurated about 2 months ago, in Dec 2021. It was delayed by about 5 years because the tri-party agreement between the Government of Goa, NHAI and MPT was supposed to be ready by 2017.
There was so much news about how this section would ease the people's lives commuting on the Vasco city roads because it would substantially reduce the traffic of heavy goods vehicles on narrow city roads and reduce the pollution. Now that the road is ready, we wonder why is it not put to use?
Why do heavy goods vehicles still continue to pass through the city roads, risking innocent people's lives?
Who is responsible for this?
Harlarnkar further said today, half of our Vasco roads are used for parking, reducing most of the main internal roads to only one lane. The stretch from Bogmalo junction towards Airport and even further is reduced to a single lane road where people park right next to the No Parking signboard. Nobody cares for pedestrians. Forget about footpaths; authorities don't enforce simple setback rules or Zebra crossings.
Why do authorities turn a blind eye to people's problems? Why authorities are not showing any interest in taking people-friendly decisions? Why are our elected representatives in local bodies unable to sense the people's pulse and strive to improve our surroundings? he questioned.
Another person from Headland Sada, Parshuram Sonurlekar, president of Goa First NGO, said new "Varunapuri to Sada road connectivity is of no good use. The resident of Rumdawada jetty El-mote still faces problems as the bridge does not have connectivity to any of these locations nor to the Port directly".
"There is a lot of the traffic congestion issue of Vasco City right from now the Chicalim to Vasco market. If this is double engine development, then it is a pure double engine failure," Sonurlekar added.
When contacted, Sudesh Narvekar, Deputy Superintendent of Police (Traffic) Vasco, informed that although the flyover is partially completed, some of its internal road connectivity from Mormugao Port Authority (MPA) berth number 1 to 9 is yet to be completed.
This is one of the reasons that some heavy vehicles are still using the city roads. Narvekar said that once this flyover's connectivity to MPA berths is established, the heavy vehicles will be diverted via the newly built flyover from Varunapuri.
Comment