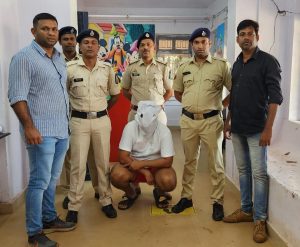 Goemkarponn Desk
CALANGUTE: Calangute police today has arrested history-sheeter Agustinho Carvalho for committing theft of golf chain and Rs 59500 cash from a Calangute resident.
More than 20 serious criminal cases have been registered against Agustinho at different police stations in Goa.
As per information one unknown accused person took him in his car and dropped him on the way and therafter accused alighted from the car snatched his gold chain from the neck of the complainant weighing 10 grams worth Rs. 50,000/- and cash of Rs. 9,500/- all worth Rs. 59,500/- and further accused fled away from the spot with gold chain and cash.
In this connection an offence vide Calangute P.S. Cr. No. 237/2022 u/s 323, 356, 379 IPC stands registered and investigation was taken up.
During the course of investigation, team headed by P.I. Calangute P.S. verified the CCTV footage and traced the car involved in the above crime and upon continuous follow up it was revealed that habitual offender involved in several typical crimes Agustinho Carvalho r/o Majorda Salcete Goa has committed the crime.
Further all efforts lwere made to trace the accused Agustinho Carvalho at all possible places of his hideouts by calangute police inspector personally satyingvat Arambol Keri area for staying there continues two night along with the staff by hiding the identity and accused finally was apprehended from Arambol Pernem Goa today. Accused Agustinho Carvalho is hard core active criminal and is having more than 20 serious crimes registered against him at various Police Stations in Goa.
The successful nabbing of accused was possible under the team headed by PI-Shri Dattaguru K Sawant, HC-4936 Vidhyanand Amonkar, PC-6118 Amir Garad, PC-6644 Vijay Naik and PC-7119 Ganpat Tiloji who played very important role in apprehending above accused .
Accused is also wanted in Non bailable warrant cases in other police station and he is suspected to be involved in theft cases of other police stations in Goa
Accused is lodged in Police Custody for further investigation. Further investigation is under progress under the supervision of Pl Shri Dattaguru K Sawant and SDPO Porvorim Shri Vishvesh Karpe
Comment