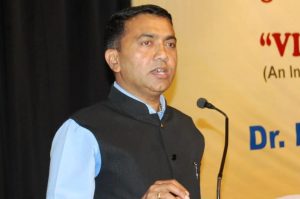 Goemkarponn desk
PANAJI: Chief Minister Pramod Sawant said that hotels should check the criminal background of various staff before appointing them to jobs or duties.
CM Sawant chaired a review meeting with Goa Police and the Labour and Employment department in the wake of the Anjuna Attempt to Murder case.
"Hotels should check the criminal background of various staff before appointing them on job or duty. They should thoroughly check their backgrounds," said CM Sawant.
He further said that PSI who registered the wrong section will be suspended, and an order would be issued by evening.
"Such incidents will not be tolerated. Anjuna attempt to murder case: Action will be taken against a concerned police officer who failed to add section 307 IPC that day itself; the concerned officer should be suspended by today evening," he added.
Sawant also said that a department inquiry will be initiated against him.
"The hotel manager should have called the police, and the incident wouldn't have reached so far; people and tourists should not take law and order in their hands for small issues; they should call the police," he said.
CM said that the violent incident in Anjuna is shocking and intolerable and that he has directed the Police to take the harshest action against the perpetrators.
"Such anti-social elements threaten the peace and safety of the people in the State and will be dealt with strictly," he added.
He further informed that it was the tourist who threw stones at the accused person, who then later attacked with a knife on tourist.
When the case escalated, Sawant ordered strict action and then IPC section 307 was added to the FIR, after which the police arrested four accused persons in the case.
A video of the horrific incident has been doing rounds on social media. A group of miscreants can be seen attacking Jatin and his family members in the clip while a woman cries for help.
Sharing the ordeal on Instagram, Jatin's family member explained, "After an altercation with the staff, the resort discharged them from the duties. Shortly after, when the family was taking a bath in the pool, one of the members spotted 14-15 people outside the resort."
According to reports, the violent incident took place after the family had a small altercation with the resort staff.
Comment